Product of:

Mexico
KAH Tequila (Kah means 'life' in the Mayan language) is branded round the 'Mexican Day of the Dead' festival held on the 1st and 2nd November where people honour deceased friends and relations. The tequila's hand-finished bottles are inspired by the sugar skulls decorated for the festival.

KAH is a 100% agave tequila made using agave harvested from the Lowlands area of Jalisco, processed using autoclaves, a roller shredder and stainless steel pot stills. KAH Añejo is aged for two years in American oak casks.

KAH Tequila is certified organic and Kosher.
Review and Tasting
Sampled on 09/08/2014
Appearance:
Crystal clear.
Aroma:
Vanilla custard donuts, mocha, burnt butter, new leather and cinnamon spice with lemon citrus.
Taste:
Faintly sweet vanilla, fudge-like agave, butter and zesty citrus with assertive cinnamon and black pepper spice.
Aftertaste:
Citrus, cinnamon and black pepper spice.
Product Information
Barcode UPC: 0 81240 05027 7
Bottle Size: 700 ml
Closure: Synthetic stopper

More about KAH Tequila Anejo
Tequila classifications, categories & classes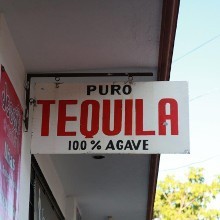 There are two main classifications of tequila, 'Mixto' and '100% Agave'. These two categories of tequila are further categorised according to whether or