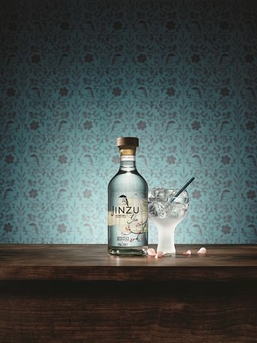 Buy direct from
The Whisky Exchange
Bottle size: 70cl

Product of:

United Kingdom
Launched in November 2014, Jinzu was the brainwave of a Dee Davies, a young English bartender who won Diageo's Show Your Spirit competition with the gin in 2013. Jinzu is described as being a British gin with a Japanese twist, using a mix of classic and Japanese botanicals with the addition of sake.
Named after the Japanese Jinzu River, which is lined with 1,000 cherry trees, so Jinzu's bottle is appropriately clean and simple with a discreet cherry blossom branch imprint representing the course of the Jinzu River.

Jinzu is made by infusing juniper berries, coriander and angelica in neutral grain spirit in a copper pot still for a period. Yuzu citrus fruit and Japanese cherry blossom are then added immediately prior to starting distillation. Junmai sake is the blended with the gin post-distillation.
Review and Tasting
Sampled on 01/12/2014
Appearance:
Crystal clear.
Aroma:
Pine and eucalyptus juniper with lime zest/lime cordial, floral cherry/honeysuckle blossom, celery-like and faint nutty angelica root notes.
Taste:
Sake seems to soften this gin adding faint sweetness and body to its mouthfeel. Thankfully Jinzu is firmly grounded in the classic London dry style with piney juniper still the predominant flavour with invigorating kaffir lime-like citrus zest and a delicate floral influence.
Aftertaste:
Cleansing, sake, lime zest and juniper finish.
Overall:
Back in the vodka boom I remember Wokka Sake vodka and now we are in the gin boom I feared East would dominate rather that meet West in this gin. However, Jinzu is a well-conceived and brilliantly executed riff on a classic London dry with juniper rightly to the fore.
Buy direct from
The Whisky Exchange
Bottle size: 70cl

Product Information
Closure: Screw / Stelvin cap