Buy direct from
The Whisky Exchange

Product of:

United Kingdom
Released in January 2014 as part of Dewar's 'The Last Great Malts range'.
Review and Tasting
Sampled on 08/01/2015
Appearance:
Clear, light golden.
Aroma:
Chamois leather, barley water, crusty pastry and sea salt – Manzanilla sherry with herbal grassiness and light toffee. With water grassy, salty, toffee/caramel.
Taste:
Sweet and salty, pear, baked apple, leather and almond. Water opens, maintaining interesting sweet barley, new leather and salty balance.
Aftertaste:
Sea salt and leather.
Buy direct from
The Whisky Exchange

Product Information
Closure: Natural cork stopper

More about Aultmore 12 year old
Whisky - Speyside single malt cocktail recipes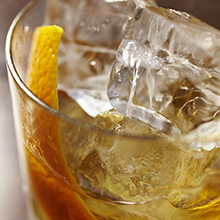 View 14 Whisky - Speyside single malt recipes on Difford's Guide