Product of:

Mexico
Named after the term for the skilled men who select and harvest blue agave, El Jimador was introduced as a sister brand to Herradura in 1994. Aged for two months in ex-American whiskey casks, this 100% agave reposado is the most popular of the El Jimador range representing some 70% of production.
Originally launched as a 100% agave, but reduced to a mere mixto during the agave crisis of 1999/2000. This may have upset purists, but the company's accountants have never looked back as its keen price, coupled with Herradura's heritage, have made it one of Mexico's best-selling tequilas. Happily, since 2009, El Jimador Reposado has returned to being a 100% agave tequila.

Review and Tasting
Sampled on 01/05/2011
Appearance:
Clear, pale golden yellow.
Aroma:
Characterful nose with agave, spiced stewed apple, cinnamon and dry, lightly smoked oak aromas.
Taste:
Slightly caramel, vanilla sweet palate with spicy (cinnamon), chargrilled peppers, a light peppery tingle and rounded, balanced vegetal earthiness.
Aftertaste:
Smooth, vanilla sweet finish with a touch of red bell pepper spice.
More about El Jimador Reposado
Tequila classifications, categories & classes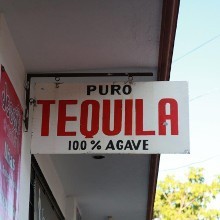 There are two main classifications of tequila, 'Mixto' and '100% Agave'. These two categories of tequila are further categorised according to whether or