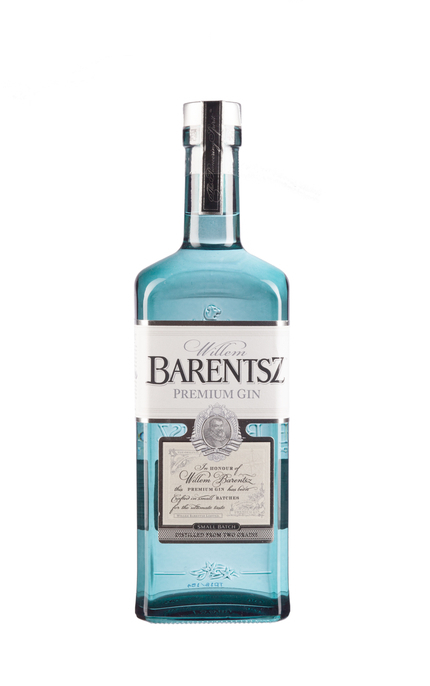 Buy direct from
The Whisky Exchange
Bottle size: 70cl

Product of:

United Kingdom
Based on a blend of two different grain spirits, wheat neutral alcohol from the UK and rye spirit from Central Europe, both distilled from GM free grain. This is re-distilled with nine botanicals that are steeped in the spirit for 24 hours prior to distillation.
The nine botanicals which flavour Willem Barentsz Premium Gin:
 • Jasmine from China
 • Juniper from Macedonia
 • Coriander seeds from Romania/Bulgaria
 • Angelica root from Poland
 • Orange peel from Spain
 • Almonds from Spain
 • Liquorice from China
 • Cassia Bark from Indonesia
 • Orris Root from Italy

This gin is named after and Captain Willem Barentsz, a Dutch navigator and Arctic explorer who went on three expeditions in search of a northeast passage. During the last of this expeditions he was stranded with his crew on Novaya Zemlya (an archipelago in the Arctic Ocean) for almost a year and he died on the return voyage in 1597. The Barents Sea is named after him.

Review and Tasting
Sampled on 10/09/2016
Appearance:
Crystal clear.
Aroma:
Pungent jasmine blossom dominates with piney juniper and liquorice.
Taste:
Jasmine is still very present but more classical gin botanicals, particularly juniper are more obvious.
Aftertaste:
Jasmine continues to dominate what is otherwise a London dry styled gin.
Overall:
Jasmine blossom distinguishes this otherwise botanically classic London dry gin. Indeed, it would be fair to describe Willem Barentsz as a jasmine flavoured London dry gin – so much so that it could perhaps benefit from the jasmine being dialled back.
Buy direct from
The Whisky Exchange
Bottle size: 70cl

Product Information
Barcode UPC: 5 060469 130002
Bottle Size: 700 ml
Closure: Screw / Stelvin cap

More about Willem Barentsz Gin