Villa Lobos Tequila Añejo
Product of:

Mexico
Villa Lobos Reposado is a 100% agave tequila rested for 6 months in tanks before 24 months aging in ex-American bourbon oak barrels. The result of a collaboration between Dale Sklar, with over 30 years' experience developing drinks brands, and Carlos Camarena who also makes Tapatio and Ocho tequilas
Villa Lobos is made at La Alteña, the Camarena family's distillery where only traditional production methods are employed. This starts with the hand-harvested agave cultivated on the family's plantations in the Arandas highlands of Los Altos. The piña are slowly roasted in old traditional brick ovens and then crushed and rinsed with spring water to separate the agave juice from the fibre. This is slowly fermented using natural yeasts in large wooden fermentation tanks and the fermented juice then double distilled in copper pot stills. The distillate is then allowed to rest for six months in stainless-steel tanks before being either being bottled as blanco tequila, or moved into oak for an extended maturation.

Review and Tasting
Sampled on 09/11/2017
Appearance:
Clear, pale golden.
Aroma:
Herbaceous and lightly spicy, roast agave, saw scorched oak, sea salt, cinnamon, caramel and parma violet.
Taste:
Roasted agave, caramel, vanilla, parma violet and peppery spice.
Aftertaste:
Light black pepper spice, vanilla fudge, butter and herbal caramel.
Overall:
A superbly structured faintly smoky buttery oaked añejo with caramel roasted agave and attractive floral parma violet.
Wood maturation
Type of wood used for main maturation: American Ex. Bourbon
Type of vessel used for main maturation: American Standard Barrel (ASB) 180 - 200 Ltrs

More about Villa Lobos Tequila Añejo
Tequila classifications, categories & classes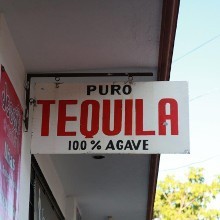 There are two main classifications of tequila, 'Mixto' and '100% Agave'. These two categories of tequila are further categorised according to whether or