Glenmorangie Spios Private Edition No.9
Buy direct from
The Whisky Exchange
Bottle size: 70cl

Product of:

United Kingdom
Matured exclusively in ex-American rye whiskey casks, Glenmorangie's Spios (means 'spice' in Scots Gaelic) is the ninth limited-edition bottling in the distillery's Private Edition series. Launched February 2018 with a release of approx. 3,000 cases.
Review and Tasting
Sampled on 17/02/2018
Appearance:
Clear, bright golden amber.
Aroma:
Buttery biscuit, sawdust, pastry and hay with delicate clove spice. Pastry and clove notes are amplified a splash of water.
Taste:
Sweet pastry and cake are quickly dried by clove and Christmas spice. With further sips the spice turns sweeter with herbal notes more obvious. Drier with water with more pronounced clove spice and rye bread notes emerging.
Aftertaste:
Lightly spicy and malty with faint minty toffee.
Overall:
This is a malt to savour at Christmas time - to sip with mince pies in front of the fire while contemplating the past year. Sweet spice, pasty, herbal and subtle rye bread are finished with the merest hint of minty toffee.
Buy direct from
The Whisky Exchange
Bottle size: 70cl

Product Information
Barcode UPC: 5 010494 941555
Bottle Size: 700 ml
Closure: Natural cork stopper

More about Glenmorangie Spios Private Edition No.9
Whisky - Highland single malt Scotch whisky cocktail recipes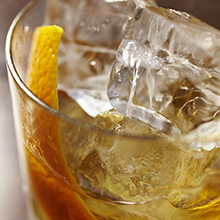 View 1 Whisky - Highland single malt Scotch whisky recipes on Difford's Guide