Product of:

United Kingdom
Annual limited edition (40,000 bottles) Ardbeg's 'Alligator' was released 1st September 2011. Matured in the most intense type (level 4), 'Alligator' charred casks before filling with spirit. The burnt staves take on the appearance of an alligator's scales, hence the name. Non chill-filtered.
Review and Tasting
Sampled on 05/09/2011
Appearance:
Clear, mid-golden amber.
Aroma:
Coal tar sooty nose with smoked oak chips, nubuck leather, fresh root ginger and barbeque sauce.
Taste:
Hydrated to approx. 40% yields a huge palate explodes with smoky hot coal tar which mellows to reveal sweet liquorice, vanilla, chewy leather and oyster sauce. Lively ginger and pepper spiciness.
Aftertaste:
Sooty coal tar, smoky bacon finish subdues to leave lingering espresso, bitter chocolate and soy sauce.
Product Information
Closure: Natural cork stopper

More about Ardbeg Alligator 2011
Whisky - Islay single malt Scotch whisky cocktail recipes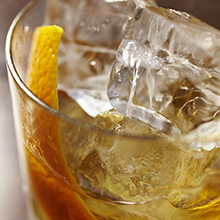 View 63 Whisky - Islay single malt Scotch whisky recipes on Difford's Guide