Bruichladdich The Laddie Ten
Product of:

United Kingdom
Released at the end of 2011, as the name suggests this is the 10-year-old base entry from Bruichladdich. Blended from 90 per cent first fill ex-bourbon casks and 10 per cent sherry casks and bottled on site without Chill-filtration or added colour.
Review and Tasting
Sampled on 12/05/2012
Appearance:
Clear (slightly cloudy with water), light golden with burnished gold highlights.
Aroma:
Lightly dungy peaty with floral chamomile, salty grassy seaweed, lychee, white peach and honeyed apricot fruit.
Taste:
Ruby port, salty seaweed, vegetal (school dinner cabbage) with invigorating eucalyptus and chamois leather/balsa wood-like, light oakyness.
Aftertaste:
Salty, vanilla crème brûlée, ginger and lightly smoked.
Product Information
Barcode UPC: 618105005297
Bottle Size: 700 ml
Closure: Natural cork stopper

More about Bruichladdich The Laddie Ten
Whisky - Peated Scotch whisky cocktail recipes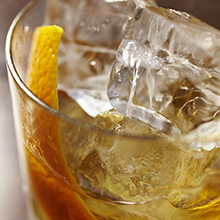 View 76 Whisky - Peated Scotch whisky recipes on Difford's Guide