2019 Final
No.3 Gin Unlock Taste Cocktail Tournament 2019
Words by Simon Difford
Photography by video by Alicja Rymarowicz & pics by yours truly
Back for a 3rd year, poignant for a Gin named No.3, the annual Unlock Taste Cocktail Tournament is now established as one of the UK's premier bartending competitions with regional heats leading to a final held (rather fittingly) at No.3 St James's. And incredibly it was the 3rd competitor who won.
As in previous years, Berry Bros. & Rudd challenged bartenders across the UK to create cocktails that accentuate and balance the six botanicals in No.3 Gin in modern interpretations of two iconic gin serves, the G&T and Dry Martini.
Wild Card Round
The five regional heats produced five worthy finalists, but as No.3 boasts six botanicals it seemed fitting that there were also six finalists. Hence, five runners-up from the heats were invited to serve their signature cocktails at a drink's reception for the finalists held at No.3 St James's the evening prior to the competition. Each of the runners-up cocktails was served unmarked besides a simple coloured dot and the five finalists were asked to mark their scorecards with the colour corresponding to the drink they liked the best. This very democratic process revealed the wild card sixth finalist as being Daniel Elphinstone.
The Duel
A narrow 18th-century oak-panelled tunnel to the left of Berry Bros. & Rudd leads to Pickering Place, a small gas lit courtyard. Noted as being "Britain's smallest public square", Pickering Place is also said to be where the last duel was fought in England. So, fittingly, the six competitors faced each other off in pairs in a duel of a speed round. Each was given a mystery box containing the ingredients of a classic gin cocktail and armed with the most unpractical and hard to open 3-piece shakers available. "Otherwise it would be too easy," to quote Richard Gillam, No.3's Ambassador.
This round was certainly entertaining and special mention must go to Krystian Kropaczewski for his ingenuity and resourcefulness, although, like others, the useless shakers got the better of him.
The Winner
The final round played out in the historic cellars of No.3 St. James's with each competitor given ten minutes to present their re-imagined and re-invented interpretations of two of the most iconic gin cocktails – the G&T and Dry Martini. A good few of the cocktails borrowed influences from Berry Bros.' origin as coffee merchants and all were highly creative, including a G&T served Martini-style accompanied by a Dry Martini served long.
After much deliberation and deployment of a spreadsheet to crunch the scores, Geordie Willis (creative director and eighth generation Berry) was called upon to pronounce William Campbell-Rowntree from London's Artesian the winner of a luxurious trip to Hong Kong and a trip to No.3 distillery in Schiedam, Netherlands, the spiritual home of gin.
"I entered because it's a brand I really like, and I believe in what they try to do. I like their heritage and style of gin. They create their own character and flair. Layers Mill took inspiration from the black paint on the Berry Bros. building. The black paint on the glass represents the layers and layers of paint on the shop. The Berry's never removed it and have just added layers and layers over the years." - William Campbell-Rowntree
Layers Mill
Glass: Highball
Garnish: Charcoal painted glass
Method: Bottle, refrigerate and carbonate.
45ml No.3 London Dry Gin
20ml Oloroso Sherry
10ml Good Ordinary Claret Wine
10ml Simple syrup
75ml Used coffee water (Take a puck of coffee from an espresso machine and infuse in water in room temperature for 12 hours. 3 pucks per 500ml approximately.)
King's Revival
Glass: Coupette
Garnish: Glenrothes whisky spray
Method: Stir
50ml No.3 London Dry Gin
10ml King's Ginger
3.75ml Good Ordinary Claret Wine
3.75ml Gran Classico
Dash of salt


The other Finalists
Krystian Kropaczewski
Artesian, London
"The place that this key opens is where all the important decisions are made here at Berry Bros. It's in the No.3 bottle – a replica of this very key. It's a symbol of promise and trust. I love this gin. It's a staple of great classic gin. And it's a platform for many gin classics."
Soil
Glass: Martini
Method: Stirred
40ml No.3 London Dry Gin
30ml Beetroot wine
2.5ml Rich simple salted syrup (500g sugar, 250g water and 7.5g salt)
Parlour
Glass: Highball
Garnish: Ice cube with key inside
Method: Build
45ml No.3 London Dry Gin
15ml Tokaji wine reduction infused with coffee
40ml Schweppes tonic
40ml Vichy Catalan water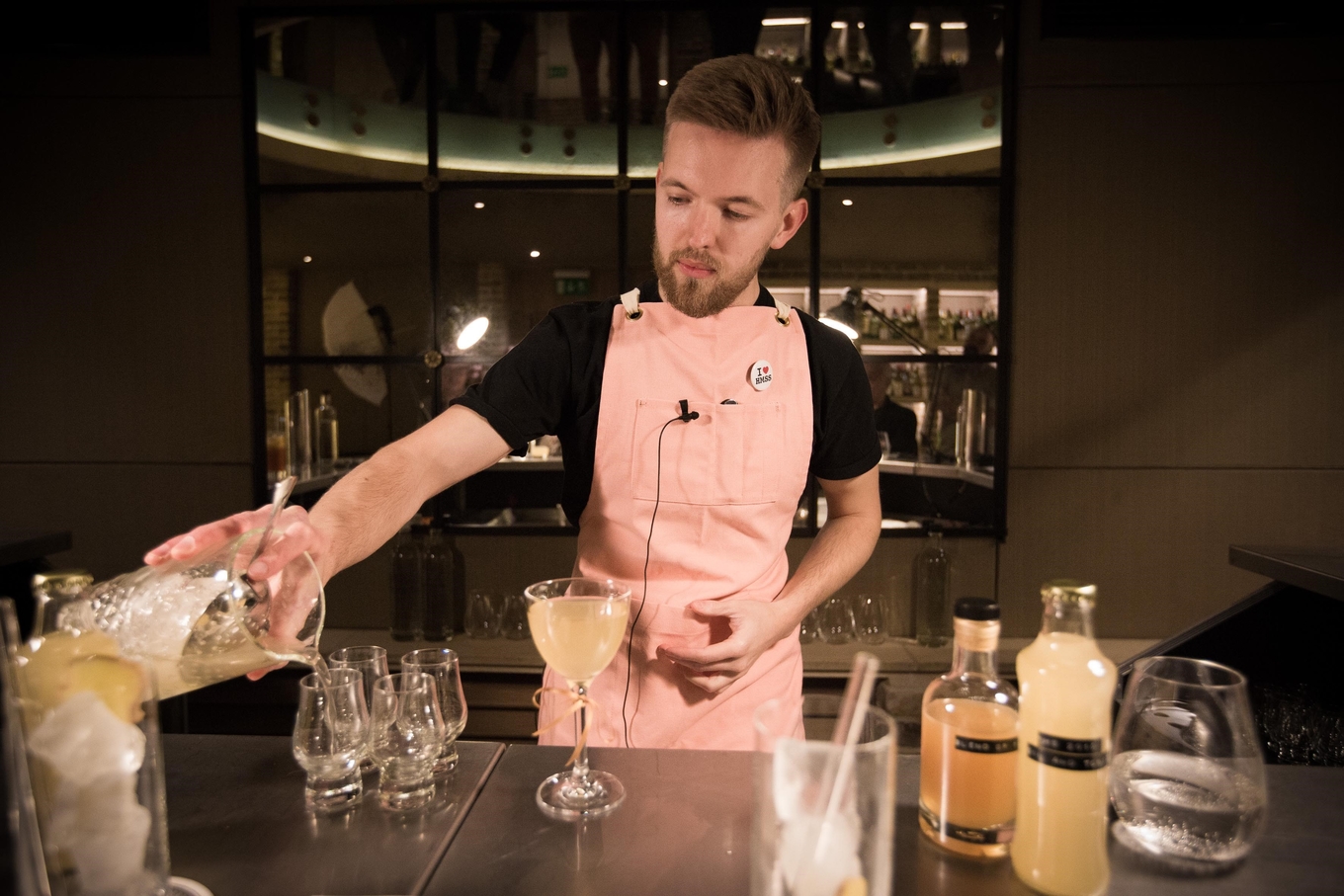 Harry Cosmo Boardman
HMSS, Bristol
"These drinks are a celebration of the characterful, humble past of Berry Bros. & Rudd and their bright confident future. I've done a small handful of competitions. I think the brief for the regional competition caught my imagination as it was the first time I'd tried a 20th century cocktail. I thought it was really delicious."
The 1698 Martini
Glass: Nick & Nora with gold ribbon around stem.
Garnish: Orange zest
Method: Stirred down.
50ml No.3 London Dry Gin
25ml Blend of 1698
Blend of 1698: 1 part lemon orange cordial with cardamom angelica root and juniper with 4 parts coffee flower tea.
The 2010 G&T
Glass: Highball
Garnish: Fresh slice of ginger.
Method: Batched and carbonated.
50ml No.3 London Dry Gin
150ml 2010 Tonic
2010 Tonic: 1 part lime grape cordial with juniper and coriander with 4 parts green tea.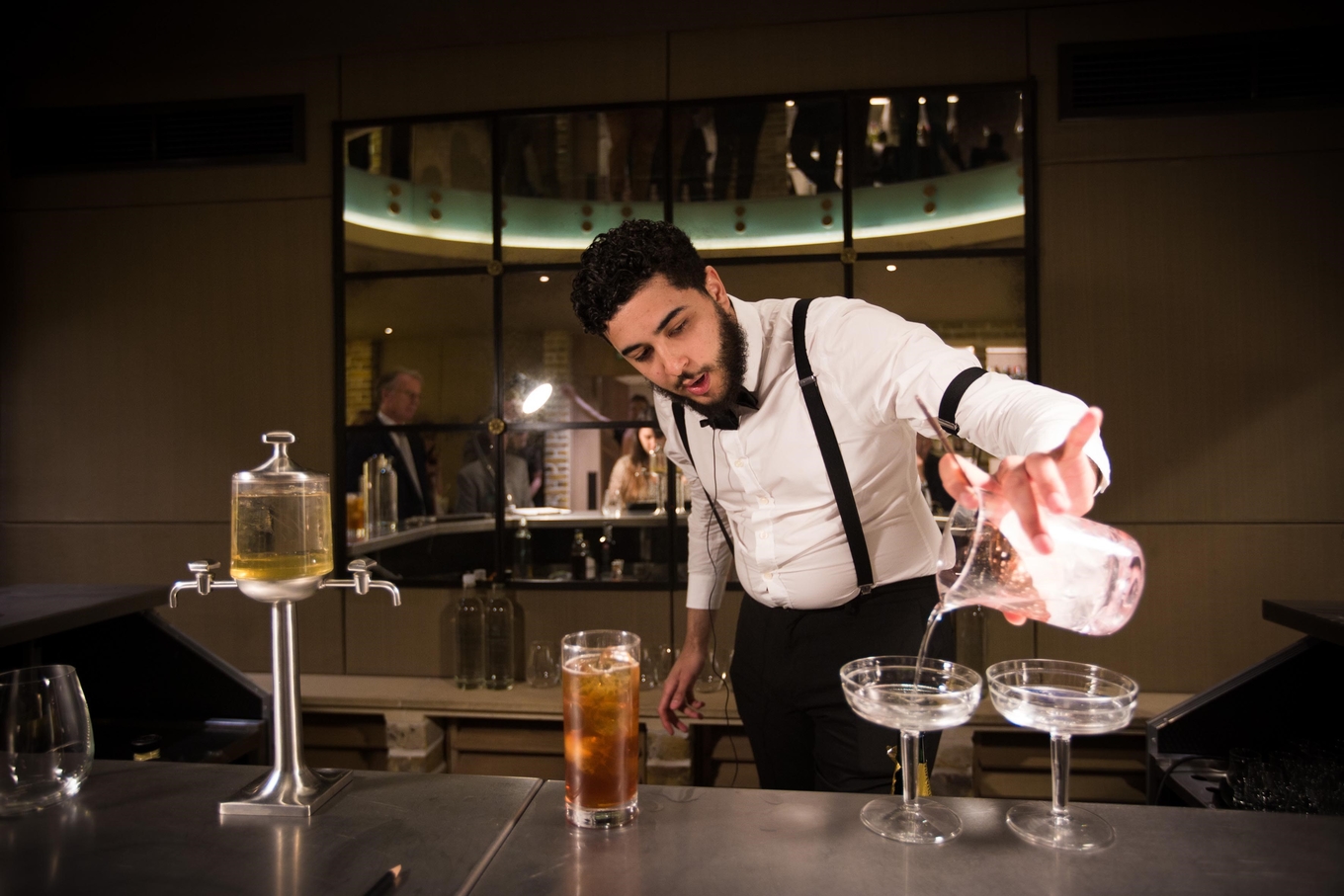 Jeffrey James Berraoui
Tippling House, Aberdeen
"I just wanted to start doing competitions. I was familiar with the brand from Andy Stewart, the former head bartender at Tippling House. I don't do many comps. For my drinks, it's about the history and there's so much history to talk about and to sum it up in 10 minutes is hard. And doing something subversive is interesting."
Napoleon on the Night Shift
Glass: Highball
Method: Build over ice
50ml No.3 London Dry Gin
35ml Cold brew
15ml Sweet vermouth
10ml Napoleon mandarin
Top Champagne
At the Sign of the Coffee Milk
Glass: Coupe
Garnish: Rosemary
Method: Stir gin in a glass. Then strain Elixir into an absinthe fountain and drip into the glass.
50ml No.3 London Dry Gin
Free pour 19th Century Elixir
Daniel Elphinstone
Orchid, Aberdeen
"I felt the idea of twisting classics really interesting, especially a twist on the 20th Century. I entered more as a test to see if I could do it. I like to challenge myself and competitions are a great way to do that."
Gin & Tonic
Glass: Coupe
Method: Stirred
60ml No.3 London Dry Gin
15ml Tonic syrup reduction of bottled tonic.
10ml Acid solution (powdered malic citric acid, 5% solution)
Martini
Glass: Highball
Garnish: Fresh slice of grapefruit
Method: Build
45ml No.3 London Dry Gin
25ml Dill dry vermouth
75ml Soda water
Tom Kirk
Below Stairs, Leeds
"I partly do competitions where I like the brand and No.3 is a great brand. My first drink is inspired by the origins of Berry Bros - coffee is unique in that quinine is really unique. And my martini was inspired by the excellent dinners they do here...Plus, I'm getting married next year, and the prize would be a great honeymoon."
Coffee House Remedy
Glass: Highball
Garnish: Grapefruit twist
Method: Pre-batch all ingredients and carbonate with carbonating cap.
40ml No.3 London Dry Gin
160ml Coffee mill tonic (125ml Water, 25ml Spent coffee infused aperitif*, 5ml Vanilla syrup, 2 dash Amaro Montenegro and 6 drops Citric acid solution. Mix all ingredients until fully integrated and refrigerate.)
*Spent coffee infused aperitif: 750ml Cocchi Americano, 15g Spent coffee. Mix all ingredients and leave to infuse at room temperature for at least 30 minutes. Run through a coffee filter to remove all solids.
Bovill
Glass: Wine glass
Garnish: Lime zest (discarded).
Method: Pre-batch ingredients, bottle and refrigerate.
30ml No.3 London Dry Gin
20ml Chablis aperitif (200ml Petit Chablis, 40ml Cloveroot syrup*, 20ml Lime tincture*, 10ml Damiana tincture*. Mix all ingredients together until fully integrated and refrigerate.)
40ml Water
*Cloveroot syrup: 100g boiling water, 100g sugar, 10g cloveroot. Mix all ingredients until sugars are dissolved then allow to infuse for 30 minutes before straining out solids.
*Lime tincture: 100ml Navy strength gin, 10g lime zest. Leave to infuse for 48 hours then strain out solids.
*Damiana tincture: 100ml Navy strength gin, 10g dried damiana. Leave to infuse for 48 hours then strain out solids.


Compère, storyteller and fountain of knowledge
As in previous years, Berry Bros. Brands Heritage Director, Ronnie Cox, was our host, entertainer and at times disciplinarian. Never lost for words, Ronnie helped make this competition a most enjoyable event for all.


The Judges
Samantha Ryan, Content Manager at DrinkUp.London
Alessandro Palazzi, Head Bartender at Duke's Bar
Richard Gillam, No.3 London Dry Gin Ambassador
And yours truly