Five Sydney Bars to Celebrate World Margarita Day In
Five Sydney Bars to Celebrate World Margarita Day In
Words by Jane Ryan
Photography by Trent van der Jagt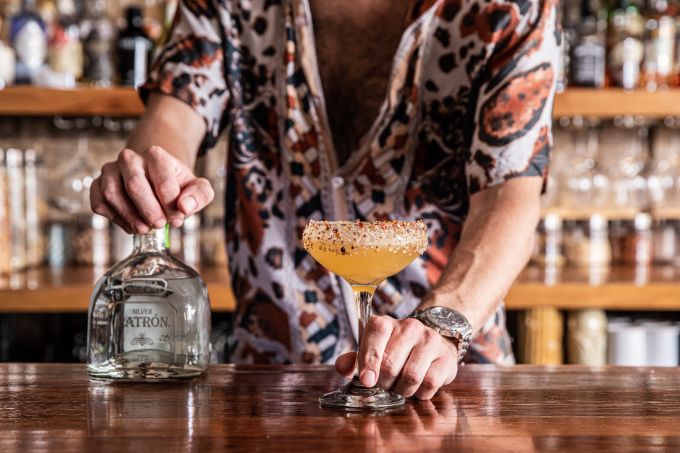 Margarita Day is a subject very close to our hearts. Because, no matter who invented this classic cocktail, or added a salt rim to a Picador, it's a seriously great cocktail. Maybe even the best. So if you're celebrating next week in sunny Sydney (these drinks are running MONDAY FEB 21 - SUNDAY FEB 27) here's where to head to enjoy great margys. Many thanks to our friends at Patrón Tequila for helping pull this list together.
Tequila Mockingbird, Paddington
Open: Tues-Wed 5pm–10pm; Thurs 5pm–11pm; Fri-Sat 12pm–12am; Sun 12pm–9:30pm; Mon closed.
World Margarita Day Cocktail: Choose from Tequila Mockingbird, Fashionista or Gengibre Y Romero.
This converted townhouse, with its ode to all things agave and Gregory Peck and its lush green courtyard is one of Sydney's best venues. We come for the drinks but always end up staying for the vibrant and delicious dishes. For World Margarita Day they've put on three cocktails so even those adverse to the traditional marriage of tequila and lime can get in on the celebrations.
Choose from their namesake cocktail, the Tequila Mockingbird with Patrón Silver, St Germaine elderflower liqueur, jalapeño infused agave, cucumber, lemon and a salt & Tajin rim, a Gengibre Y Romero with rosemary infused Patrón Reposado, ginger liqueur, yuzu, cracked pepper and served with a salt & rosemary rim or their fabulous Fashionista made for sipping with Patrón Añejo, Illegal Joven Mezcal, Fernet Branca, whiskey aged bitters, agave and a lemon twist.
Cantina OK!, CBD
Open: Mon-Sun 4pm–2am.
World Margarita Day Cocktail: On Hoja Margarita
We love this spot for several reasons ‑ its dedication to agave spirits is the best in the country and you won't find more knowledgeable or passionate folk. Try some spirits, order a margy and give one of their rotating specials a go. We've never had a bad drink here and we're sure you won't either. To celebrate the amazing Margarita they've invented the On Hoja Margarita - made with Patrón Reposado, mezcal, betel-juice, dragonfruit and sugarcane.
It draws flavours from around the world that grow on the same latitude as Mexico - and you won't believe how harmoniously this all fits. It's bright and fresh and moreish. This is the tiniest little hole‑in‑the‑wall bar Sydney has and it's freakin' adorable. Squeeze in for bar service or perch on plastic chairs in the laneway for a great World Margarita Day.
Burrow Bar, CBD
Open: Tues-Sun 5pm–12am; Mon closed.
World Margarita Day Cocktail: Sparkles at Sunset
Creating a local bar in Sydney's CBD was always going to be a tall order, but Burrow Bar has become exactly that - an inviting basement filled with bottles of booze, great cocktails and, most importantly, the friendliest bar team in the city. This is the type of venue to intend to swing by for one and spend a whole evening in.
For the day dedicated to Margaritas, Burrow Bar is serving a spritz twist, the Sparkles at Sunset with Patrón Reposado, Martini Bitter, salted honeydew agave and lime juice topped off with sparkling wine. An absolute summer dream of a margy.
Neighbourhood, Bondi
Open: Mon-Fri 5pm–11pm; Sat 12pm–11pm; Sun 12pm–10pm
World Margarita Day Cocktail: Loco Mandarine
A bright and welcoming staple of the Bondi scene, Neighbourhood is where we always come for cocktails when we're beachside. With a gentle tiki vibe that's tropical yet not in your face, the team here nail fresh and moreish drinks every day of the week. It's therefore little surprise their Margaritas are perfection.
This World Margarita Day they've upped their game even more with the Loco Manderina, using Patrón Silver, Amaro Montenegro, mandarine agave and fresh lime served with a spiced citrus salt rim. The use of mandarine is juicy and fresh while the amaro gives a gentle bittersweet balance. An absolute must-try and if the rest of Sydney needs coaxing to the beach, this is the drink that can get them here.
Esteban, CBD
Open: Tues 5pm–12am; Wed 12pm–12am; Thurs-Fri 12pm–1am; Sat 4pm–1am; Sun-Mon closed
World Margarita Day Cocktail: Classic Margarita
Down a little alley way off George Street is the candle-lit basement that serves, in our opinion, the best Mexican-influenced food in town. Their agave collection is also breathtaking, and nowhere does a classic Margarita better than Esteban, not to mention they'll happily tailor it to your preferences. While we often drop down the stairs for a cocktail, the aromas coming from their dishes never fail to entice us to stay for a meal.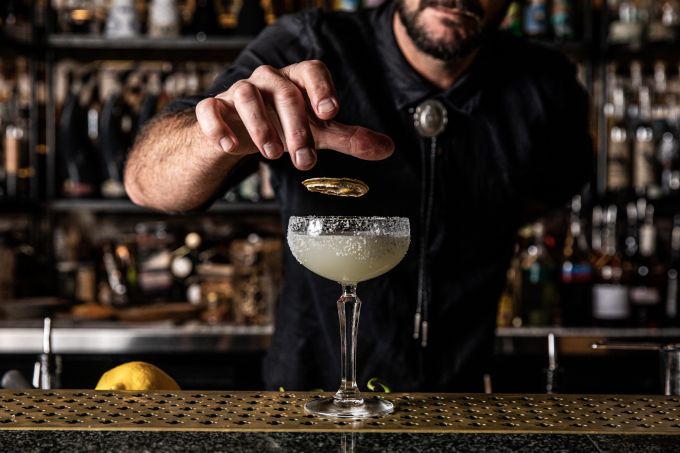 For World Margarita Day they've kept it classic with a traditional Margarita using Patrón Reposado, Cointreau, lime juice and sugar syrup served with a salted rim. It's what we're all celebrating after all and this perfected Marg is shows us just why we love the cocktail so much.