Classic Challenge
Classic Challenge
Cherry Heering is celebrating its 200th years on the shelves of the world's best bars. It's truly a classic in its own right and appears in numerous classic cocktails such as the Singapore Sling and the Blood & Sand. To celebrate its bicentenary, Cherry Heering challenged bartenders around the world to incorporate the liqueur in their chosen classic cocktail to give it an unexpected twist, and then to create their own contemporary classic using Cherry Heering.
The ten finalists, from Europe, Asia, Middle East/Africa, North America, Latin America and Australasia, were flown into London for the competition which was held to coincide with London Cocktail Week and The World's 50 Best Bars.
Held in the intimate surroundings of Bar III, ther competition was judged by three legendary bartenders: Dale DeGroff, Alex Katrina and Nicholas Saint-Jean; Laura Schacht (Global Cocktail Training and Advocacy Manager De Kuyper Royal Distillers) and myself.
The competition revealed some very tasty drinks, some of which we'll be adding to this website, and a two tin to two tin throw by Oscar Armenta. Yup, you read that correctly, the contents of two tins held aloft side by side in one hand strained and poured through the air into two tins held below. This was even a revelation to four times World Flair Champion, Nicholas St-John.
And the well-deserved winner, Odd Strandbakken representing Himkok bar in Oslo, Norway with his Pavoni:
Pavoni Cocktail
Glass: Old-fashioned
Garnish: Orange zest twist (discarded) & Kraftkar cheese stuffed olive (a Norwegian cheese judged the world's best cheese)
Method: Stir all ingredients with ice and strain into ice-filled glass.
30ml Cherry Heering
30ml Fino sherry
10ml Maraschino liqueur
10ml Angostura di Amaro
4 dashes Angostura Orange Bitters
All 11 competitors and their cocktails in the order they presented on the day:
Better Days by Maximiliano Vallé Valletta, Montréal, Canada, Les Enfants Terribles


Royal Cocktail by Mykhailo Zhuravel, Dubai, UAE, Bar: Mirage Dubai


Viajero by Chirag Pal, Delhi, India, Shangrila New Delhi


Ma Cherie by Moses Laboy, David Burke Kitchen, NYC, United States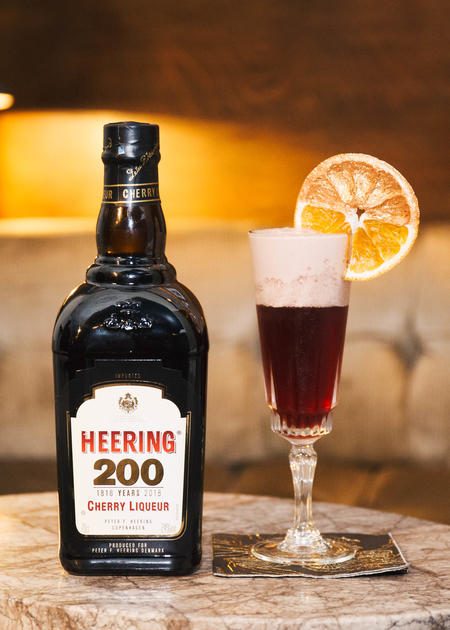 Cherry Bomb by Maria Damgaard Andersen, Y's Café & Cocktailbar, København K, Denmark


Few Words by Alexey Poltavskiy, Club No. 43, Phuket, Thailand


Naughty Charles by Liam Doherty-Penzer, Whirly Bird, Sydney, Australia


Lovers and Frans by Karalee Te Riini, Hawthorn Lounge, Wellington, New Zealand


Royal Centenary by Oscar Armenta, Sabina Sabe, Oaxaca, Mexico


Pavoni by Odd Strandbakken, Himkok, Oslo, Norway


The Cherry Tree by Philip Abowd, Southside Parlor, Seoul, South Korea