Distillerie Henri-Louis Pernod (Caves Byrrh)
Distillerie Henri-Louis Pernod (Caves Byrrh)
More about Distillerie Henri-Louis Pernod (Caves Byrrh)
Status
Operational
Established:
1805
Owner:
Pernod Ricard Group
Capacity:
Not supplied
Visitor Policy:
Not generally accessible
Tel:
+33 (0)4 6853 4586
Website:
http://www.byrrh.com
Boulevard Violet
Thuir
66301
France
The origins of Pernod Absinthe, and indeed all absinthes, date back to the time of the French Revolution (1789-1799) when thousands of French loyalists sought safety through exile in Switzerland and other nearby countries.
One such elderly émigré was Dr Pierre Ordinaire, a retired physician who fled to Switzerland and settled in the town of Couvet. According to popular legend, Dr Ordinaire started work on creating a new elixir drink using plant extracts, particularly wormwood, long considered to have medicinal properties. He sought to make a tonic which made ingestion of the bitter herb more palatable and, in 1792, utilised distillation to arrive at his final formulae involving the maceration of fifteen botanicals in grape spirit. These included wormwood bark, star-anise, liquorice, fennel, hyssop, parsley, camomile, spinach and coriander. He named his new drink Extrait d'Absinthe after Artemisia absinthium, the Latin name for wormwood.
On his death, Dr Ordinaire bequeathed the recipe for the drink and a substantial sum of money to his trusty housekeepers, the Henriod sisters. They made small batches of his potion and started selling it as Dr Ordinaire's Absinthe. The doctor's tipple attracted the interest of another French expatriate and lace merchant, Major Daniel-Henri Dubied. After trying the drink Dubied made an offer to the Henriod sisters for both the recipe and their business.
Whoever its true originator, the village of Couvet in Switzerland's Val-de-Travers region is indisputably absinthe's spiritual home. And it appears that commercial absinthe distillation for use as a beverage rather than an elixir was started there sometime around 1794 by a distiller called Abram-Louis Perrenoud.
It is undisputed that it was Major Dubied who commercialised absinthe. In 1797 his daughter, Emilie married Abram-Louis Perrenoud's son, Henri-Louis (born 1776 in Switzerland). That same year Dubied acquired the formula from Abram-Louis and employed his son-in-law, Henri-Louis, as he had learnt the art of distillation from his father. In 1798, they started distilling their own absinthe with Dubied's own sons, Marcelin and Constant, also involved in the business which they named Dubied Père et Fils.
Henri-Louis Pernod
The history of the Pernod Absinthe brand really starts in 1805, when Henri-Louis, aged 29, changed his name from Perrenoud to Pernod and established his own absinthe manufacturing company called Pernod Fils, just across the border in the French town of Pontarlier. This was chiefly to avoid paying taxes at the French border.
Sales of absinthe grew rapidly as French society welcomed the addition of this new drink to the limited choices of bitter quinine tonic wines (quinquinas) available on café menus. The popularity of absinthe was helped by French army doctors prescribing it to soldiers in the 1840s Algerian Campaign to prevent fevers, malaria, and dysentery, caused by the extreme North African environment.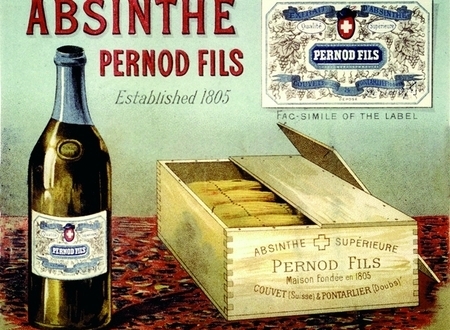 Pernod was by far the leading brand of Absinthe and was well regarded for its quality – understandably so as Henri-Louis Pernod had learnt his trade from his father, Abram-Louis Perrenoud, the distiller who turned absinthe into a commercial beverage. Abram-Louis lived to 1851 so witnessed the first 46 years of his son's business, watching it grow from a start-up and presumably offering much help and advice.
Later in the 19th century, the phylloxera plagues beginning in 1862 and lasting through the 1880s decimated European vineyards leaving the wine and brandy industries on their knees. The more easily obtainable absinthe was an obvious alternative, causing sales to boom.
In 1878 Pernod opened a new state-of-the-art distillery built in Pontarlier. When it first opened, production stood at 16 litres per day but this quickly rose to a staggering 22,000 litres a day from 26 alembics. At the height of absinthe distillation in France, 36 million litres a year were produced.
Absinthe sales continued to soar as the 19th century progressed and towards the end of the 1800s the French and other governments became concerned over the consequences to society of heavy absinthe consumption.
Overconsumption of absinthe was believed to produce a syndrome called absinthism, characterized by addiction, hyper-excitability and hallucinations. Sufferers were drunks and many were alcoholics. But some of absinthe's bad effects were possibly caused by unscrupulous manufacturers adding cheap and often poisonous ingredients such as copper sulphate for colouring and antimony trichloride to enhance the louching effect. Pernod Fils fought legal battles to prevent imitators and published warnings about inferior absinthes.
The myth behind the effects of absinthe going beyond that of just alcohol was supported, and to a large extent, driven by the flawed scientific studies of Dr Valentin Magnan. He forced laboratory animals to consume pure wormwood oil extract and used the resulting violent convulsions observed as proof of his theories. Modern science recognises that this is akin to testing the effects of drinking coffee by feeding animals massive doses of pure caffeine. So this was far from conclusive evidence. He even asserted that the 'disease' was hereditary, and the detrimental effects of absinthe drinking could be passed on to a sufferer's children.
Absinthe was blamed for Van Gogh's ear-lopping incident and for filling asylums with people made insane by the drink. By 1880, many Parisians were ordering absinthe by asking for "une correspondence", meaning 'a ticket' in English. This was a reference to a ticket to Charenton, an infamous lunatic asylum on the outskirts of Paris.
Probably the most notorious story occurred in 1905 when a Swiss peasant farm labourer called Jean Lanfray, in a drunken rage shot and killed his pregnant wife and two daughters supposedly as a direct consequence of drinking absinthe. The fact that he was a habitual drunk (and that very day had consumed litres of wine and a good deal of brandy) was not considered to have had any bearing on his actions. A second murder a few days later in Geneva, where a heavy drinker named Sallez also murdered his wife led to an outcry throughout Switzerland.
This bad reputation and the rise in the temperance movement led to absinthe being banned, first in 1898 in the Republic of Congo, then by the Belgians in 1905, followed by the Swiss banning its retail sale in 1907, followed by an outright Swiss ban which came into effect in 1910. The Dutch also banned absinthe in 1910, followed by the USA in 1912.
Meanwhile, in France, the impending First World War brought about renewed efforts to ban absinthe and on 16 August 1914 the Minister of the Interior banned the sale of absinthe as an emergency measure. But the drink continued to circulate in spite of the ban, partly because of the large stocks remaining in warehouses. By this time the French government was convinced that absinthism was destroying the country and under pressure from the conservative newspapers, winemaking associations (still trying to recover following the decimation of European vineyards by Phylloxera), the Temperance League and the escalating world war, absinthe was formally banned in France by presidential decree in January 1915. Finally, in 1932, a referendum in Italy led to the ban there.
Although Pernod continued to produce absinthe in Tarragona, Spain, obviously the French ban and the First World War had a devastating effect on Pernod Fils. After the war, in 1926, Pernod partnered with Hemard Distillery to create Pernod, an anise-tasting liqueur. The new Pernod product was made without using the now-notorious wormwood so did not fall foul of the law banning absinthe. In its new guise, Pernod regained its popularity. In 1926, the production centres of 'Maisons Hémard, Pernod Père et Fils et Pernod Fils Réunis' joined to be renamed later 'Etablissements Pernod'.
Pernod Anise gave French consumers the anise flavour they yearned in a product that was consumed in a similar manner to Pernod Absinthe – mixed with water. However, the new product already included sugar so removing the need to drip water over a sugar cube. The launch saved the Pernod name and set the company on the path of becoming an international conglomerate with Pernod Anise still an important part of that company to this day.
In 2002 the company launched Pernod Fils Extrait d'Absinthe, a modern version of the former Pernod Absinthe made at their facility in Créteil, France and named to conform to French government regulations.
However, in May 2011 the French law banning the sale of absinthe was repealed, so paving the way for Pernod to recreate its original recipe and in 2013 relaunch Pernod Absinthe made to the original recipe at Distillerie Henri-Louis Pernod in Thuir.
left to right:
1st Euro label (introduced 2013) 'Pernod Aux Extraits de Plantes d'Absinthe'
2nd Euro label (introduced 2014) 'Pernod Absinthe Recette Tradittionnelle'
U.S. label (introduced 2014) 'Pernod Absinthe Supérieure La recette Originale'