Envelhecimento: Sem declaração de idade
Produzido por:

Brazil
Pronounced 'vel-ya', Sagatiba Velha is made from sugar cane harvested from fields surrounding the distillery in Minas Gerais, Brazil. The fermented sugar cane juice is distilled in traditional copper pot stills and the distillate aged for 2-3 years in ex-Jim Beam bourbon barrels.
Avaliação e degustação
Amostra não recebida, por isso não foi avaliado.
Product Information
Closure: Synthetic stopper

Mais sobre Sagatiba Velha Cachaça
Cachaça cocktail recipes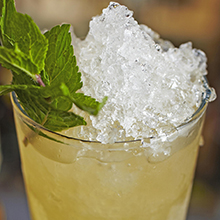 View 87 Cachaça recipes on Difford's Guide