 Produzido por:

Brazil
Launched in the UK in 2007, Brasilla is a new brand with an established spirit inside the bottle. In its native Brazil the same product is known as "Jamel." It was established in 1958 and sells some 35 million litres annually, making it the country's third biggest cachaça.
Avaliação e degustação
Experimentado em 03/01/2011
Aparência:
Crystal clear.
Aroma:
A hint of linseed oil emerges from a subdued nose with just a hint of dark sugar.
Sabor:
Rich, characterful and smoothed by an oily roundness and subtle sweetness. It opens to reveal complexity with subtle fruity hints of pear drops and dry, bready, nutty notes.
Aftertaste:
A real cachaça.
Product Information
Closure: Screw / Stelvin cap

Mais sobre Brasilla (Jamel)
Cachaça cocktail recipes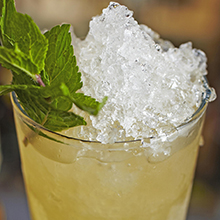 View 87 Cachaça recipes on Difford's Guide