Buy direct from
The Whisky Exchange
Bottle size: 70cl

Envelhecimento: Sem declaração de idade
Produzido por:

Brazil
Capucana Cachaça is distilled in Piracicaba, near Sao Paulo, using the fermented juice of three different varieties of sugar cane and is aged for three years prior to bottling. The name borrows from the old Brazilian Capu Cana meaning 'sugar cane house' (capu = house and cana = sugarcane).
Avaliação e degustação
Experimentado em 13/04/2015
Aparência:
Clear, pale golden.
Aroma:
Light muscovado sugar, aloe vera, soft leather, peach and pear fruit, dried herbs, black pepper and faint mandarin orange zest.
Sabor:
Aggressive white pepper spice, sweet aloe vera, pear, yeasty brown bread and dried fruit.
Aftertaste:
Yeasty brown bread, dried fruit, pear, citrus and white pepper.
No geral:
A stand-out bottle holds a cachaça with aloe vera and pear fruit, yeasty notes and peppery spice.
Buy direct from
The Whisky Exchange
Bottle size: 70cl

Product Information
Barcode UPC: 8 437009 805411
Bottle Size: 700 ml
Closure: Natural cork stopper

Mais sobre Capucana Cachaca
Cachaça cocktail recipes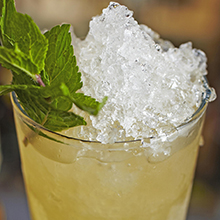 View 91 Cachaça recipes on Difford's Guide