Envelhecimento: Sem declaração de idade
Produzido por:

Brazil
This cachaça is aged for eight years in casks made from Brazilian Aribá wood sourced from the Santa Catarina coast.
Avaliação e degustação
Experimentado anteriormente 1st May 2011
Aparência:
Clear, very pale green-gold hue.
Aroma:
Grassy, honey, buttery croissant nose with crystallised ginger, almond, barky wood, subtle orange aromas.
Sabor:
Dry yet sugar/honey flavoured palate with slight smoky cider flavours, cinnamon and pepper spice.
Aftertaste:
Smoky spiced finish.
Product Information
Closure: Screw / Stelvin cap

Mais sobre Armazem Vieira Rubi
Cachaça cocktail recipes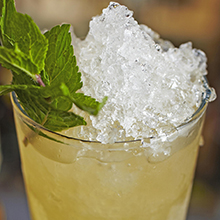 View 91 Cachaça recipes on Difford's Guide