Las Iguanas Magnifica Cachaça
Envelhecimento: Sem declaração de idade
Produzido por:

Brazil
Las Iguanas is a British chain Latin American restaurants and its owner, Eren Ali, is so passionate about cachaça that he rents a Brazilian sugar-cane plantation and has his own Magnífica brand made from the sugar cane grown on it.
Called Fazenda do Anil, the plantation lies on the border between the municipalities of Vassouras and Miguel Pereira, in the mountains of Rio de Janeiro and started cachaça production in 1985. The Magnífica brand launched in Brazil in 1997 and in the UK and other European countries in 2003.

Magnifica Cachaca Reserva Especial is distilled in a copper pot still and aged in 50,000 litre Ipé vats.
Avaliação e degustação
Experimentado em 22/06/2014
Aparência:
Clear, very faint straw yellow.
Aroma:
Pungent, estery, grassy, straw and yeasty fruitcake with sugar cane juice and white pepper.
Sabor:
Spicy, wet cut grass and straw with cracked black pepper and fruity esters.
Aftertaste:
Black Pepper spice, fruity esters and grass. A rustic traditionally styled cachaça that is made for mixing rather than sipping.
Product Information
Closure: Screw / Stelvin cap

Mais sobre Las Iguanas Magnifica Cachaça
Cachaça cocktail recipes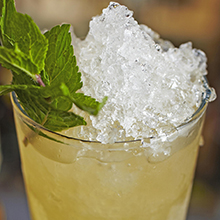 View 87 Cachaça recipes on Difford's Guide