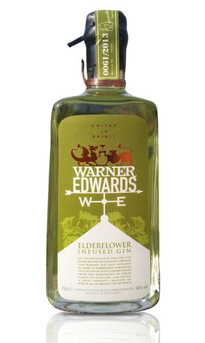 Produzido por:

United Kingdom
First produced in 2013, as the name suggests Warner Edwards make their elderflower gin by infusing fresh flowers harvested from farms in Harrington, Northamptonshire and Rhuallt, North Wales with their Harrington Dry Gin. After infusion spring water and a little sugar is added.
Avaliação e degustação
Experimentado em 01/12/2014
Aparência:
(sample from 2014 production) Crystal clear.
Aroma:
Overripe banana, cracked black pepper spice and citrus with very faint lychee-like floral elderflower.
Sabor:
Slight sweetness amplifies elderflower with lime cordial-like notes. Underlying overripe banana/banana chews and pine from the juniper with strong coriander influence.
Aftertaste:
Lightly sweet and spiced finish with coriander, pine and black pepper spice.