Envelhecimento: Sem declaração de idade
Produzido por:

Brazil
From the makers of the familiar leaf-covered Germana brand of cachaça comes this Characterised by its crown cap and brown glass bottle, this cachaça is matured in Umburana cherry wood barrels for two years and is made north of Minas Gerais in the south east of the country.
Avaliação e degustação
Experimentado em 01/03/2011
Aparência:
Clear, pale golden with a slight green tinge.
Aroma:
Jasmine, soft bamboo cane centre, perfumed nose and a touch of baker's flour and strawberry flavoured fluffy Angel Delight.
Sabor:
Characterful, well balanced palate with gripping spice and cooked sugar cane grassy sweetness.
Aftertaste:
A strangely pleasing petroleum flavour emerges on the long lasting grassy finish.
Product Information
Closure: Crown cap

Mais sobre Caetano's Cachaca
Cachaça cocktail recipes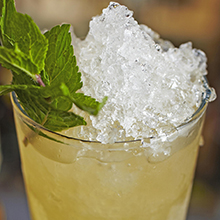 View 87 Cachaça recipes on Difford's Guide