Tiki Lovers Pineapple Dark Rum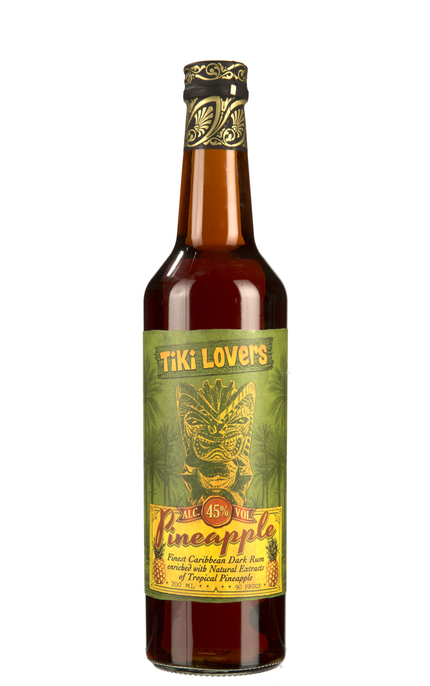 Buy direct from
The Whisky Exchange
Bottle size: 70cl

Envelhecimento: Sem declaração de idade
Produzido por:

Germany
A blend of aged and unaged Jamaican pot-still rum, three-year-old Barbados rum, aged in former bourbon barrels, along with some "young" column-still rums from Trinidad and Guyana. The rum blend is infused with pineapple essence.
Avaliação e degustação
Experimentado em 22/03/2019
Aparência:
Clear, deep bronze amber with burnished copper glints.
Aroma:
Roasted pineapple, pineapple candy, blackstrap molasses, toasty oak and pecan pie. Faint smoke and fruity funkiness.
Sabor:
Medium-bodied. Rich roasted juicy and jammy pineapple, coal dust and molasses with dark chocolate and espresso.
Aftertaste:
Roasted pineapple, mocha coffee and peppery spice.
No geral:
Rich jammy, roasted and juicy pineapple notes sit well with dark rum flavours including coal dust, molasses, dark chocolate and espresso. More obviously pineapple than the category leader.
Buy direct from
The Whisky Exchange
Bottle size: 70cl

Product Information
Barcode UPC: 4 260167 661605
Bottle Size: 700 ml
Closure: Screw / Stelvin cap

Mais sobre Tiki Lovers Pineapple Dark Rum