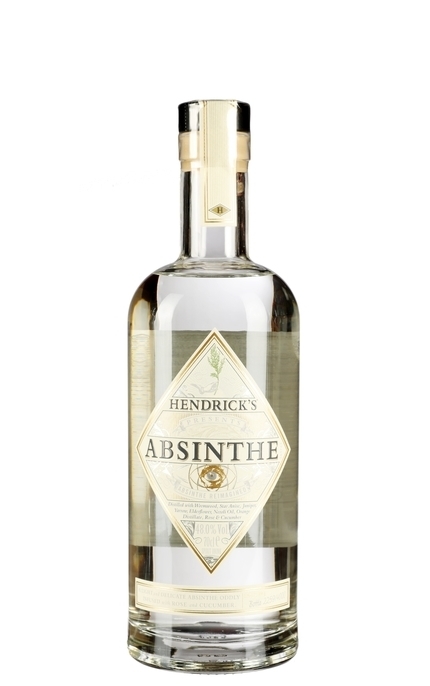 Produzido por:

United Kingdom
"Hendrick's Presents Absinthe Reimagined. Criado para levar a acessibilidade e a mixabilidade do gin ao absinto, o Hendrick's Absinthe é engarrafado a 48% ABV e, portanto, evita a potência das misturas mais tradicionais", diz a informação da marca. Ele também evita o tradicional tom verde.
Hendrick's Absinthe is flavoured with a distillation of star anise, yarrow and juniper; along with infusions of elderflower, orange (peel and blossom), wormwood, rose and cucumber – the trio of juniper, rose and cucumber being Hendrick's Gin signature botanicals with yarrow and dried orange peel also common to both products. "All flavours are entirely natural, and no colour is added, ensuring a clear expression of absinthe to further aid mixability."

Absinthe is made using the same distillation technique as gin so its perhaps not surprising that the experimental mind of Lesley Gracie, Head Distiller of Hendrick's, has, after a couple of years of test distillations and experimentation, led to Hendrick's Absinthe. And as Lesley says, absinthe is somewhat maligned, in much the same way gin was until recent years.

Ally Martin, Global Brand Ambassador for Hendrick's, told us that Hendricks's Absinthe "allows us to explore a flavour paradigm we've not explored before." "Hendrick's success was built, in large part, thanks to the openness, creativity and imagination of the world's best bartenders. Hendrick's Absinthe is our way of giving this spirited group something new to play with that has the same quality credentials and inventiveness they have come to expect from Hendrick's."

Just 4,000 bottles of Hendrick's Absinthe Batch No.1 have been produced in individually-numbered bottles and initially available exclusively to the UK on-trade.

Avaliação e degustação
Experimentado em 14/11/2019
Aparência:
(sample bottle Batch No.1, bottle 2259) Cristalino. Fica leitoso ("louche") com água, mas não como os absintos tradicionais. Fica levemente branco, em vez de totalmente com aparência de leite.
Aroma:
Losna bastante presente, disputando com anis estrelado, que tem notas mais sutis quando comparadas a outros absintos. Flor de rosa sutil, mas distinta, alecrim, erva-doce e alcaçuz (embora os três últimos não sejam botânicos usados)
Sabor:
O anis domina o paladar com as notas terrosas de fundo, principalmente alcaçuz.
Aftertaste:
Final seco com anis e notas persistentes de losna.
No geral:
Ao contrário de outras categorias de destilado, existem poucas regras que regem o absinto, permitindo que Hendrick's, o "gin mais incomum", crie um produto tão diferente dos outros quanto era para outros gins, quando foi lançado em 2000. O rótulo diz "absinto delicado e leve " e, de ato, é um sabor mais sutil, sem a tradicional cor verde e com uma força muito menor. Talvez ele seja mais próximo de alguns Pastis do que um absinto tradicional. Essa sutileza significa que o Hendrick's não combina com a forma tradicional de servir absinto (gotejando). Mas, pelo seu perfil com menos álcool, a transparência e sabor comparativamente suave, presta-se a usar em medidas maiores que os meros traços de absintos tradicionais tão frequentemente usados em alguns coquetéis. Como absinto, eu pontuaria 3,5/5 (recomendado), mas como destilado botânico, daria 5+/5 (excelente). Como Hendrick's é ao mesmo tempo um "absinto" e um destilado botânico, eu vou ficar no meio termo e premiá-lo com 4.5 (excelente)
Mais sobre Hendrick's Absinthe