Envelhecimento: Sem declaração de idade
Produzido por:

Brazil
Cabana is fermented from the first pressing of purpose grown, hand cut sugar cane from the Sao Paolo area. It is double distilled in copper pot stills before being aged for nine months in large vats made from Brazilian Jequitibá wood. It is packaged in a modern cylindrical screen printed bottle.
Like many spirits brands, Cabana Cachaça is the result of one man's entrepreneurial ambitions. Matti C. Anttila was an investment banker for JP Morgan in New York whose frequent business travels to Brazil led him to realise that although cachaça was the third largest spirit in the world, little was consumed outside of its native country. Matti convinced his friends Nick Barquin and Priscilla Bittencourt that he was onto something and in June 2006 the three business partners launched Cabana, their own brand of high-end cachaça in the U.S. market.

Avaliação e degustação
Experimentado em 08/11/2010
Aparência:
Transparent and clear.
Aroma:
A sweet nose with icing sugar and hints of the yeasty Christmas cake beneath.
Sabor:
The slightly sweet palate has an oily mouth feel with faint oak, hints of celery/lemon grass with herbal overtones.
Aftertaste:
Turns slightly bitter with salt and white pepper. Not at all typical of cachaça.
Product Information
Closure: Screw / Stelvin cap

Mais sobre Cabana Cachaca
Cachaça cocktail recipes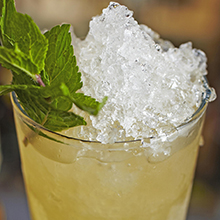 View 87 Cachaça recipes on Difford's Guide