Produzido por:

United Kingdom
Cachaça Abelha Gold is aged for three years in small 250 litre barrels made from garapeira, a Brazilian ash.
Avaliação e degustação
Experimentado em 08/11/2010
Aparência:
Yellow gold with green tones.
Aroma:
Reminiscent of black olives in brine with sour brambles and lemon zest.
Sabor:
Sour with black peppered olive notes.
Aftertaste:
Bitter treacle finish.
Product Information
Closure: Screw / Stelvin cap

Cachaça cocktail recipes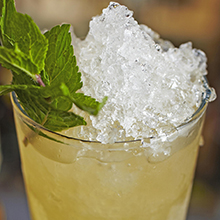 View 87 Cachaça recipes on Difford's Guide