PDT
Photography by diffordsguide.com
Words by Simon Difford on 12-May-2015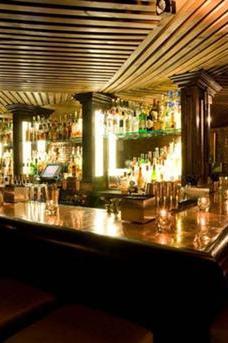 Address: Crif Dogs, 113 Saint Marks Place, (8th btwn A & 1st Aves), New York City, New York, 10009, United States
Tel: +1 212 614 0386
Website: View bar's website
Hours: Mon-Thu 6pm-2am; Fri-Sat 6pm-4am
Door: Make reservation
Style: Speakeasy
Recommended for: Cocktails, Romantic
Price guide: High-end
Food: Bar snacks
Established: 2007

Review
PDT (short for Please Don't Tell) is one of the original Manhattan bars modelled on Prohibition speakeasies. This one is a rather wonderful cocktail lounge, accessed through a 1940s wooden phone booth inside Crif Dogs, a hot dog merchant of some repute.
The booth is set into the left wall immediately on entry, although, due to rather too many people ignoring the injunction not to tell, access is sometimes blocked by a bouncer. Once inside the booth, pick up the phone and dial. If the camera likes your face, you will be buzzed in.
The bar itself is cosy and dimly lit, with a low ceiling, three black leather booths and plenty of taxidermy on the walls. Cocktails tend towards the old-school and are lovingly made, while the wine and beer selection will also please discerning palates. All-American junk food comes from Crif Dogs next door, via a small hatch behind the bar.