Beekman Bar & Books
Photography by diffordsguide.com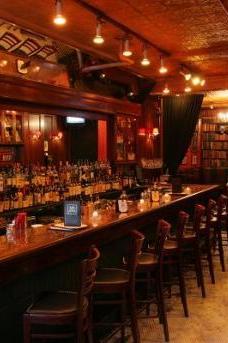 Address: 889 First Avenue, (corner of 50th St), New York, NY, 10022, United States
Tel: +1 212 758 6600
Website: View bar's website
Hours: Mon-Sun 5pm-2:30am
Door: Open door
Style: Cigar bar
Recommended for: Spirits
Price guide: High-end
Food: Plates & dishes

Review
This third Manhattan Bar & Books shares more of the formal atmosphere of the original 1990 uptown Lexington branch than its more relaxed downtown Hudson sibling. Obviously the easy jazz ambiance is targeted at the local cigar smoking business crowd and Beekman caters for this market well.
The journals referred to in the name line shelves around a room that would not look out of place off the lobby of a classic hotel. Soft lamps sprout from the establishment's signature wooden monkeys across which dot the bar and the crescent-shaped leather booths which furnish the space. Dominican Republican, Honduran and Nicaraguan cigars can be enjoyed in the cigar room tucked away at the back.
The cocktail menu offers eight "seasonal" cocktails and six "legendary favourites". These are well executed by Adam, the suited and booted bar manager. In keeping with a good cigar bar, there is also a good range whiskies, brandies, vintage ports, and fine wines.
Some may find Beekman Bar & Books somewhat staid but the cocktails are good, the service excellent and it is the solitary cigar bar in this part of town.