Milk & Honey New York
Photography by diffordsguide.com
last reviewed on 17-Sep-2014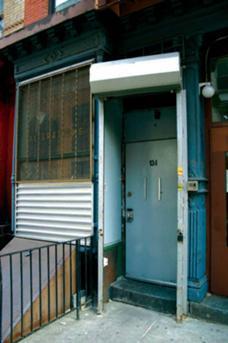 Address: 134 Eldridge, Lower East Side, New York, New York, 10002, United States
Tel: Withheld
Website: Not supplied
Hours: Mon-Sun Closed
Door: Members & guests
Style: Cocktail bar
Recommended for: Cocktails
Price guide: High-end
Food: Plates & dishes
Established: 2000
Owned by: Sasha Petraske

Review
Milk & Honey opened in January 2000 and spawned a myriad of imitations. It was a true speakeasy in as much as all that was visible from outside was a grilled window marked "Tailors M&H Alterations", and a plain door, numbered simply 134.
Milk & Honey had the façade of neglected commercial premises, but a surveillance camera monitored the door so members who'd rung ahead to reserve their spot could be spotted and buzzed in.
Inside, beyond the blackout curtains, was a single, candlelit room with simple décor, a pressed tin ceiling, a tiny bar with five fixed seats and some booths along a plain brick wall. Sasha Petraske had perfected the great classic cocktails and all the drinks served were simply amazing.
The strictly enforced house rules included: "No namedropping. No hooting, hollering, shouting or other loud behaviour. Gentlemen are required to remove their hats and may not introduce themselves to ladies."
In 2012, Milk & Honey moved uptown to 30 East 23rd Street and shortly after, the 134 Eldridge address was remodelled by Sam Ross and business partner Michael McIlroy. Both, long-term veterans of Milk & Honey, they expanded the notoriously tiny bar to accommodate two bartenders and enabled this legendary address to continue as a world-famous bar, now under the name Attaboy.