Product of:

United Kingdom
Part of Diageo's Classic Malt range, the name Dalwhinnie is a corruption of the Gaelic word 'Dail-chuninnidh' meaning 'meeting place'. Built in 1897, at 1,073 feet, the distillery is the 2nd highest in Scotland. However, the whisky is aged off-site predominantly in refill American oak bourbon casks.
Review and Tasting
Sampled on 24/02/2013
Appearance:
Clear pale golden.
Aroma:
Freshly baked bread with a slightly burnt crust, leather and faint peat. Water releases orchard fruits, creamy vanilla and subtle cinnamon spice.
Taste:
Ultra-mellow barley water with a gradual build to an elegant, flavoursome, light to medium bodied palate with vanilla, dried apricot, orange marmalade, light toasty notes and faint peat smoke.
Aftertaste:
Long dry malty finish fades with walnut lightly smoked buttery digestive biscuits. Mellow with sweet barley water throughout. A faultless and satisfying beginner's malt.
Product Information
Barcode UPC: 5 000281 018331 >
Bottle Size: 700 ml
Closure: Natural cork stopper

More about Dalwhinnie 15 Year Old
Whisky - Highland single malt Scotch whisky cocktail recipes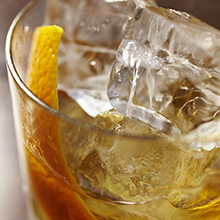 View 1 Whisky - Highland single malt Scotch whisky recipes on Difford's Guide