Product of:

Mexico
100% agave, double copper pot still tequila (first distillation with the agave fibres) aged 8-10 months in refill Bourbon casks and made using traditional Mampostería' masonry ovens and tahona millstone.
Destilería Colonial de Jalisco (Olmeca's distillery) was built to replicate production at Siete Leguas which at that time was making Patrón using a combination of crushing by traditional tahona wheel and modern rolling mill, so unusually the new distillery was built with traditional masonry ovens and both old and new methods of crushing the piña. The loss of Patrón left the tahona wheel and the specially commissioned small stills designed to distil with the plant fibres from the millstone practically redundant. Operational tahona wheels are rare in tequila production and practically unknown in modern distilleries so Olmeca's Tezón brand was created to use rare and very special pieces of equipment.

Pronounced 'Tes-Zon', this 100% agave tequila is named after 'Tezontle', the volcanic stone from which tahona wheels are made. Coincidently and rather fittingly, the name also means 'with intensity' in Spanish. The hand-blown and finished bottle originally had pewter metal plates on each side embossed with four symbols that represent Teźon's production process: an agave plant, fire (symbolising the slow roasting), a tahona stone and the 'spirit' of Teźon. The bottle is finished with a black resin stopper, again representing the tahona stone used in this Tequilas production.

Olmeca Tezón launched in the U.S. in August 2005 and in the UK the following March.

Review and Tasting
Sampled on 31/03/2013
Appearance:
(bot No. R25906) Clear, pale golden.
Aroma:
A nose of vanilla, milk chocolate covered sultanas, bay leaves and caramel.
Taste:
Fresh agave, green apple skin toffee apple, creamy vanilla/butterscotch and elegant smoky pepper spice with coffee and chocolate.
Aftertaste:
Long, fruity (pear), sweet, smoky finish. This very clean, characterful reposado has much less pepper and spice than is evident in its blanco sibling.
Product Information
Barcode UPC: 0 80432 10093 6
Bottle Size: 700 ml
Closure: Natural cork stopper

More about Olmeca Tezon Reposado
Tequila classifications, categories & classes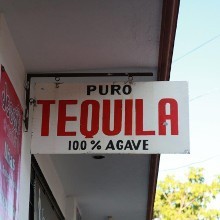 There are two main classifications of tequila, 'Mixto' and '100% Agave'. These two categories of tequila are further categorised according to whether or