Product of:

Mexico
This 100% agave reposado tequila is aged for minimum of eight months in 200 litre casks previously used to age whisky in Kentucky. Each cask is filled a maximum of four times. Calle 23 Reposado is packaged in a bottle distinguished by screen printed black agave leaves.
Producer: Imex International S de RL de CV (NOM: 1529), Zapotlanejo, Jalisco, Mexico

Calle 23 is a brand of 100% agave tequila created by the fabulous Sophie Decobecq, a French microbiologist who learnt her trade distilling agave spirit in South Africa before moving to Mexico. The idea for the brand name came to Sophie when she was out celebrating with her team after they had perfected fermentation and distillation processes and produced what was to become Calle 23. It was a special moment but they still lacked a name. Looking across the street Sophie saw the sign 'CALLE 23' and thought it an appropriate name for their tequila. (Pronounce 'Kai-Yay', Calle means street in Spanish).

The agave chosen for Calle 23 are sourced from the Highland region of Los Altos de Jalisco, between Tepatitlan y Arandas. The plants used have an average age of seven years and a weight of 40kg (maximum for Calle 23 production is 90kg). The agave are cooked at low pressure in stainless steel autoclaves for seven hours and then left to slowly cool in the ovens for three hours.

Fermentation takes place in 30,000 litre stainless steel tanks using a combination of cultivated yeasts naturally present and isolated from agave juice. The process takes 72 hours producing a mosto of 3.8 to 4.5% abv.

Double distillation is in stainless pot stills with copper streamers and a capacity of 5,000 and 6,000 litres. The first distillation lasts three hours and producers a distillate of 28 - 30% abv. The second distillation takes twelve hours producing a tequila at an average of 54% abv. The process water is drawn from the distillery well.
Review and Tasting
Sampled before 1st May 2011
Appearance:
Clear, pale golden.
Aroma:
Initial burst of antiseptic on the nose gives way to buttery toast, almond and crème brûlée.
Taste:
wonderfully buttery with good agave notes, red pepper, honey and fresh fig.
Aftertaste:
Satisfying buttery agave. This reposado manages to be smooth and easy, yet wonderfully characterful.
Product Information
Closure: Screw / Stelvin cap

More about Calle 23 Reposado
Tequila classifications, categories & classes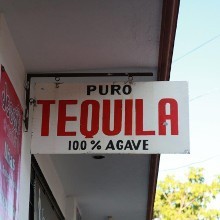 There are two main classifications of tequila, 'Mixto' and '100% Agave'. These two categories of tequila are further categorised according to whether or