anCnoc 35 Year Old (2nd Release)
Product of:

United Kingdom
Release October 2016, this second release of anCnoc 35 year old was aged exclusively in American oak ex-bourbon barrels resting in a traditional dunnage warehouse. Just 670 bottles were made available globally.
Presented in an ice-white tube.
Review and Tasting
Sampled on 10/11/2016
Appearance:
Clear, crystal clear.
Aroma:
Green apple, vanilla, lemon curd, leather and white pepper spice with attractive floral notes. Gooseberry emerges with water.
Taste:
Full-bodied with a creamy oily mouthfeel. More green apple fruit, honeyed sweetness, leather, wood smoke and mild spice. Zesty lemon emerges with water.
Aftertaste:
Cream of soda vanilla, faint smoke and lingering spice.
Overall:
Honeyed green apple, vanilla and honey smooth wood smoke and mild spice.
Product Information
Closure: Natural cork stopper

More about anCnoc 35 Year Old (2nd Release)
Whisky - Highland single malt Scotch whisky cocktail recipes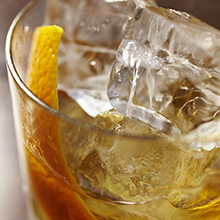 View 1 Whisky - Highland single malt Scotch whisky recipes on Difford's Guide