The Balvenie Tun 1401 Batch 5
Product of:

United Kingdom
This Speyside single malt is blended from whisky aged in five ex-bourbon barrels and four ex-sherry butts, all aged in Warehouse 24. The blend from these nine casks was transferred to Tun 1401 - a traditional oak marrying vessel for several months prior to bottling. Released June 2012.
Review and Tasting
Sampled on 13/07/2012
Appearance:
Clear, coppery amber with polished bronze highlights.
Aroma:
Stewed and tropical dried fruit with cream soda/creamy custard vanilla, floral parma violet and delicate lightly gingery and cinnamon spice.
Taste:
(diluted to approx. 43%) Smooth and easy yet flavoursome. Yumm! Honeyed sherry sweetness balances dry lightly spiced oaky tannins.
Aftertaste:
Buttery vanilla and delicate spice. Harmonious but perhaps a tad too easy – David's made a floozy.
Product Information
Closure: Natural cork stopper

More about The Balvenie Tun 1401 Batch 5
Whisky - Speyside single malt Scotch whisky cocktail recipes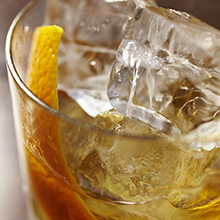 View 24 Whisky - Speyside single malt Scotch whisky recipes on Difford's Guide