Wemyss Fresh Fruit Sorbet Single Cask 1997 Clyneli
Product of:

United Kingdom
A Highland malt from the Clynelish Distillery, distilled in 1997 and aged 15 years in a cask yielding 331 bottles, released in July 2012. One five single malts released by Wemyss in July 2012, each representing a different region and each named after a dessert reminiscent of the whisky's character.
Review and Tasting
Sampled on 23/07/2012
Appearance:
Clear, pale golden yellow.
Aroma:
Ripe juice pear skin and flesh with tea chest and faint waxy salty seaweed.
Taste:
Fruity and rounded with wonderful pear notes from the nose continuing with subtle chocolaty leather, and delicate sea salt and white pepper.
Aftertaste:
Lightly salted pear skin and very light black pepper.
Product Information
Closure: Natural cork stopper

More about Wemyss Fresh Fruit Sorbet Single Cask 1997 Clyneli
Whisky - Highland single malt Scotch whisky cocktail recipes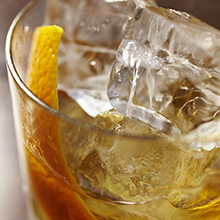 View 1 Whisky - Highland single malt Scotch whisky recipes on Difford's Guide