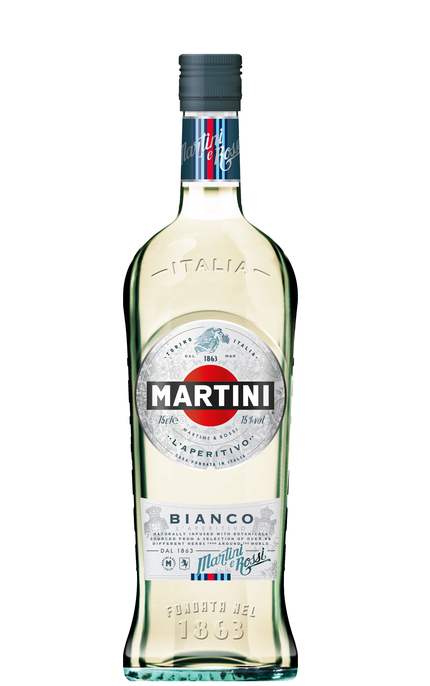 Choose your preferred shop:
Product of:

Italy

Launched in 1910, Martini Bianco earned the name 'Bianchissimo', or 'the whitest', inspired by the white flowers of the vanilla plant. White wine is filtered through charcoal, flavoured with natural herbs and vegetables mainly from the Alps, then sweetened with beet sugar and fortified with spirit.
At its heart is a combination of herbs and sweet, floral spices producing a softer, lighter and more delicate style of vermouth with slight bitterness balanced by sweet vanilla notes. Interestingly, the blend of wines Martini Bianco is based upon is the same as that used to make Martini Rosso (Extra Dry has a different blend).
Review and Tasting
Sampled on 06/03/2020
Appearance:
Clear, very pale gold with golden tints.
Aroma:
Citrus, peachy-raspberry, tobacco ash and fresh bay leaf.
Taste:
Quite rich, apples baked with ginger and cinnamon, herbal bitterness, a touch of honey, vanilla, and zesty lemon.
Aftertaste:
Sweet apple finish with light cinnamon spice.
Overall:
Delicate and complex. Herbal bitterness and light spice balances honeyed fruity sweetness.
Choose your preferred shop:
Difford's Guide Certification

Product Information
Size (ml): 750

More about Martini Bianco Vermouth