Bruichladdich The Classic Laddie
Product of:

United Kingdom
Distilled from 100% Scottish barley, this unpeated malt without an age statement is Bruichladdich's present signature bottling. Aged and bottled at the distillery on the shores of Lochindaal in American oak casks.
Review and Tasting
Sampled on 31/07/2015
Appearance:
Clear, pale-mid golden amber.
Aroma:
Sea spray, freshly sawn oak/pencil shavings and green apple with earthy chocolate, coffee, ginger, cinnamon and buttery pastry. Water brings out vanilla fudge and faint citrus zest.
Taste:
Dry spicy oak, faintly smoky (although its 100% unpeated), barley sugar sweetness, ginger, cinnamon, salt, biscuit, heather and oil. Like the nose, creamy fudge and citrus zest with water.
Aftertaste:
Vanilla fudge, dry and oaky, spicy and salty. Faint pepper spice.
Overall:
Creamy vanilla fudge, zesty citrus, dry spicy oak and barley sugar sweetness. Well-balanced and structured. Likes water.
Product Information
Barcode UPC: 0 518105 003159
Bottle Size: 700 ml
Closure: Natural cork stopper

Barcode UPC: 5 055807 400336
Bottle Size: 700 ml

More about Bruichladdich The Classic Laddie
Whisky - Peated Scotch whisky cocktail recipes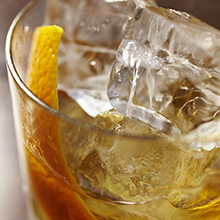 View 76 Whisky - Peated Scotch whisky recipes on Difford's Guide