Bruichladdich Black Art 1990 Edition 04.1
Product of:

United Kingdom
The forth manifestation of Bruichladdich's Black Art, so named due to the secrecy behind what casks Master Distiller Jim McEwan uses to create each batch. What is known is that a combination of American oak and French oak ex-wine casks are used.
Review and Tasting
Sampled on 29/10/2013
Appearance:
Clear, deep coppery amber.
Aroma:
Golden syrup, creamy barley and baked apple with toasty coconut macaroons, green grapes and honeydew melon. Water exposes freshly sawn oak.
Taste:
Big, dark and robust and yet slightly sweet. Hot spice balances honeyed sweetness with layers of complexity encompassing baked apple pie, sea salt, caramel, sweet liquorice and wisps of smoke.
Aftertaste:
Salty apple pie with a burnt crust and cinnamon spice.
Product Information
Barcode UPC: 0 518105 003852
Bottle Size: 700 ml
Closure: Natural cork stopper

More about Bruichladdich Black Art 1990 Edition 04.1
Whisky - Peated Scotch whisky cocktail recipes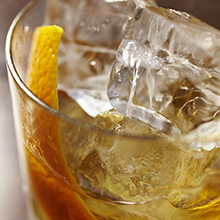 View 74 Whisky - Peated Scotch whisky recipes on Difford's Guide