Product of:

United Kingdom
This single cask Highland malt whisky was distilled in 1977 at the Glenturret Distillery and aged in cask No. 23 which yielded 210 bottles, each individually numbered.
Review and Tasting
Sampled on 02/01/2014
Appearance:
(ref: DV-G05, sample: 3760) Clear, golden amber.
Aroma:
Very fruity with fresh juice peach, galia melon and pear, dried fruit, dried apricots. Underlying notes of cinnamon, coal tar and dried raisons. Water knocks the fruitiness back to expose more complex spice.
Taste:
Malty and fruity with leathery delicately spiced oak. A splash of water brings all into kilter with sweet fruit, spice and charcoal influenced oak, all harmoniously presented.
Aftertaste:
Sweet chamois leather and peach with balancing spiced oak. Lingering burnt biscuit.
Product Information
Closure: Natural cork stopper

More about De Vere Glenturret 1977
Whisky - Highland single malt Scotch whisky cocktail recipes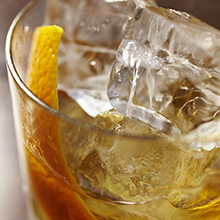 View 1 Whisky - Highland single malt Scotch whisky recipes on Difford's Guide