Product of:

United Kingdom
Released in January of 2007, this Bowmore expression is aged 15 years, firstly in American oak ex-bourbon casks and finally in oloroso sherry seasoned casks.
Review and Tasting
Sampled on 27/04/2014
Appearance:
Clear, deep coppery amber.
Aroma:
Red apple, pear and chocolate with subdued peat smoke, raisons, pencil shavings and fresh grass cuttings.
Taste:
Dry cedar wood, peat and hot spice with red apple, toffee and delicate treacle sweetness. The merest splash of water releases more sweetness with raisons an caramel.
Aftertaste:
Long and spicy with lingering sherry and dry oak tannins.
Product Information
Barcode UPC: 5 010496 021422
Bottle Size: 700 ml
Closure: Natural cork stopper

More about Bowmore Darkest 15yo
Whisky - Islay single malt Scotch whisky cocktail recipes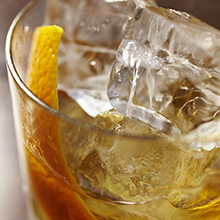 View 71 Whisky - Islay single malt Scotch whisky recipes on Difford's Guide