Product of:

United Kingdom
Elements is a range of independently bottled single malts from the Isle of Islay whose packaging draws its inspiration from traditional medical laboratory labels and bottles. The bottle shape used is a 'stock' bottle which is actually called 'pharmacy'.
All the whiskies in the range are bottled in individual batches, typically blended from between five and twenty casks from a single distillery. The label of each bottle features an 'Element' symbol representing the distillery and batch number and LG4 stands for the fourth batch (bottled 2013) of Lagavulin. The bottles in this range do not carry vintages or age statements suggesting the vatting of casks of different ages.
Review and Tasting
Sampled on 04/01/2014
Appearance:
Clear, pale golden.
Aroma:
Coffee beans, coal dust, smoky pastrami, maple syrup, saddle leather and nutmeg.
Taste:
Earthy, vegetal peat and smoke with brown sugar sweetness. A splash of water amplifies nutmeg and black pepper spice with citrus and rubber.
Aftertaste:
Spicy peat, liquorice, rubber and pastrami.
Product Information
Closure: Natural cork stopper

More about Elements of Islay LG4
Whisky - Islay single malt Scotch whisky cocktail recipes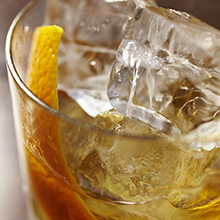 View 66 Whisky - Islay single malt Scotch whisky recipes on Difford's Guide