John Walker & Sons Private Collection 2014
Product of:

United Kingdom
The first in a series of Private Collection Editions with releases planned annually 2020, this '2014 Edition' is blended from 29 casks, chosen by Master Blender, Jim Beveridge "to expresses the smoky flavour characteristics of Scotland's Highland, Island and Islay whisky regions".
Released in June 2014 and limited to 8,888 individually numbered decanters worldwide, John Walker & Sons Private Collection 2014 Edition does not carry an age statement.

Jim Beveridge has described the Private Collection as "a series of flavour studies" and unlike Johnnie Walker blends where the blenders are restricted by a need for future continuity, this series will be blended from irreplaceable finite stocks, including from Diageo's 'Calculus' trail.

Back in the early 80s, Calculus was established to test the effects of maturation with hundreds of experimental casks laid down with five casks representing each permutation of wood and style of distillate available from the company's large number of distilleries. Although the trial quickly showed results which affect Diageo's cask management policies to this day, the casks were left forgotten for years. Over 30 years on the Calculus casks contain some of the most exceptional whiskies held by Diageo.

The 29 casks used to blend the John Walker & Sons Private Collection 2014 Edition consisted of three separate vattings:
1) vatting of smoky Island single malts.
2) vatting of single Highland malts drawn from Diageo's 'Calculus' trail.
3) vatting of grain whisky from several different distilleries, mostly aged in refill casks with some ex-bourbon barrels.
The precise distilleries which comprise these vatting has not been revealed.

Review and Tasting
Sampled on 29/05/2014
Appearance:
Clear, deep golden amber.
Aroma:
Tightly integrated aromatic smoke, leather, salt, dried fruit, nuts, vanilla and varnished cedar wood. Water amplifies fruit and releases earthy coal dust and waxy notes.
Taste:
Wonderfully balanced with smoky notes very evident but served with supporting nuts and berry fruit. It's smoky yet so tightly integrated that the smoke is just one of its many dimensions. Water teases out more spice, honey and buttery vanilla.
Aftertaste:
Old wardrobe oak, spice, mild smoke and faint salt in a long, incredibly elegant finish. I have been lucky enough to try the three component parts from which this very special whisky was blended. The Highland and grain vattings would be 5+/5 in their own right, with the grain obviously contributing sweet honeyed notes to the blend. I was slightly disappointed by the oaky Highland Calculus but having tasted all three and Jim Beveridge's final blend alongside each other I can testify that the result is better than a sum of its parts.
Product Information
Closure: Natural cork stopper

More about John Walker & Sons Private Collection 2014
Whisky - Scotch whisky (blended) cocktail recipes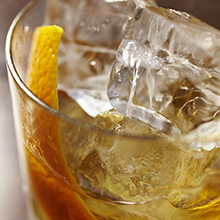 View 186 Whisky - Scotch whisky (blended) recipes on Difford's Guide