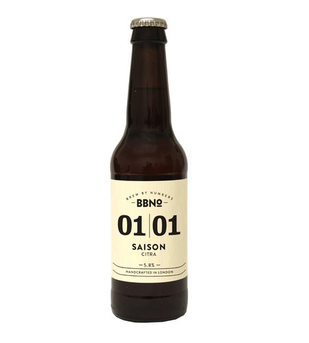 Product of:

United Kingdom
Described by its brewers as being a "modern interpretation of a Belgian farmhouse classic", this Saison-style ale is brewed with raw and malted wheat along with Citra hops and spices. Brew by Numbers 01/01 is bottled without filtration or pasteurisation.

Review and Tasting
Sampled on 12/07/2014
Appearance:
(sample bottled 04/Jun/14, best before 04/Jun/15) Cloudy, pale sandy yellow with a thin but retentive white head and good lacing.
Aroma:
Lemon zest, celery, coriander, passion-fruit, mango and yeast.
Taste:
White pepper spice, tropical fruit, coriander, resinous pine with faint saltyness.
Aftertaste:
Fresh, zesty sour lemon, crispy white baguette crust.
Product Information
Closure: Crown cap

More about BBNo. 01|01 Saison Citra