Don Julio 70th Anniversary Anejo Crystal Claro
Product of:

Mexico
Released in 2014 to celebrate Don Julio's 70th anniversary, unusually this 100% agave añejo (highland grown agave from the Los Altos region of Jalisco) is crystal clear having been filtered to remove the colour that would normally be present after 18 months maturation in American white oak barrels.

Review and Tasting
Sampled on 20/09/2014
Appearance:
Crystal clear.
Aroma:
Wet cement, green olive, chocolaty roasted agave and white pepper with faint vanilla and pineapple.
Taste:
Initial light sweetness, clean with light peppery spice, caramel, milk chocolate, toasted coconut and almond.
Aftertaste:
Clean with elegant black pepper spice and faint chocolate and toasted coconut. Overall: Clean and peppery with coconut and chocolate. I'd use in place of a blanco rather than treat as añejo. Great with dark chocolate.
Product Information
Barcode UPC: 6 74545 00082 7
Bottle Size: 700 ml
Closure: Natural cork stopper

More about Don Julio 70th Anniversary Anejo Crystal Claro
Tequila classifications, categories & classes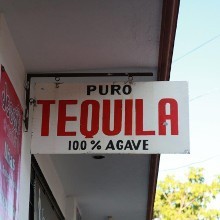 There are two main classifications of tequila, 'Mixto' and '100% Agave'. These two categories of tequila are further categorised according to whether or