Product of:

United Kingdom
This particularly smoky Talisker expression was originally exclusively available in travel retail. Talisker Dark Storm is matured in heavily charred rejuvenated American oak casks.
Review and Tasting
Sampled on 19/12/2015
Appearance:
Clear, deep golden amber.
Aroma:
Honey, toasted brown bread and smoked kipper. Faint pear fruit, black pepper and clove spice.
Taste:
Big peaty hit of smoky earthiness with charcoal and faint vegetal notes. Rich honeyed malty cereal with intense pepper, nutmeg and clove spice.
Aftertaste:
Aniseed notes emerge in the very long freshening finish with smoky toasty malt, pear fruit and light clove spice.
Overall:
A particularly smoky Talisker expression with rich honeyed malty cereal and intense pepper, nutmeg and clove spice.
Product Information
Closure: Natural cork stopper

More about Talisker Dark Storm
Whisky - Island single malt Scotch whisky cocktail recipes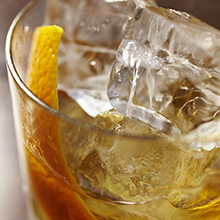 View 4 Whisky - Island single malt Scotch whisky recipes on Difford's Guide