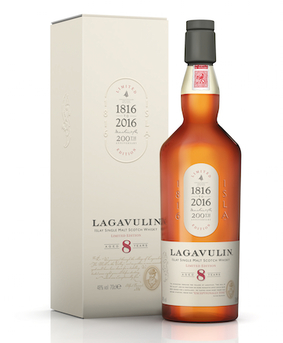 Product of:

United Kingdom
Released in March 2016 to celebrate Lagavulin Distillery's 200th anniversary. The choice of an eight-year old whisky was inspired by whisky writer Alfred Barnard, who after visiting Lagavulin in the 1880s described an eight-year old whisky he'd sampled during his visit as "exceptionally fine".
Review and Tasting
Sampled on 01/06/2016
Appearance:
Clear, pale golden.
Aroma:
Bonfire smoke, antiseptic soaked bandage and cracked black pepper with faint green apple. More smoked antiseptic bandage with water.
Taste:
Full-bodied and chewy with intense and enlivening cracked black pepper spice, dry oaky wood smoke, sweet oats and apple pie filling. Better unwatered.
Aftertaste:
Long, spicy, peaty smoked finish.
Overall:
Half the age and half the round fruitiness of the flagship 16 year-old Lagavulin, but some might prefer their's younger, feistier, spicier and oakier – in which case this 8 year-old is a great way to celebrate 200 years.