The Singleton of Glendullan 12 Year Old
Product of:

United Kingdom
The 'Singleton' brand is inspired by an expression used by whisky brokers in the early 20th century to describe a whisky of which they only held one cask. I.e. a singleton is a one-off. Similarly, in card games the term refers to a playing card that is the only one of its suit in a player's hand.
The Singleton whisky originated with the long defunct Singleton of Auchroisk which was first launched as a 12 year old in 1986. Auchroisk (pronounced 'Arth-Rusk') was marketed as 'The Singleton' as it was felt that Auchroisk was too much of a challenging name. However, the malt market developed and 'The Singleton' was withdrawn and replaced by the Auchroisk 10 year old Flora and Fauna bottling. The Singleton briefly returned (circa 1997) as 'The Singleton of Auchroisk' before again being discontinued.

This latest incarnation of the Singleton is one of three bottlings targeted at different regions of the world. 'The Singleton of Dufftown' aimed at the European market, 'The Singleton of Glen Ord' for Asia and 'The Singleton of Glendullan' is specifically for the USA, the idea being that each trio better suits the perceived preferred tastes of each market.
Review and Tasting
Sampled before 1st May 2011
Aroma:
Heather honey nose with hint of roasted nuts and herbal smoke.
Taste:
Light, fruity, oily/buttery palate with sherry sweetness and notes of cider, vanilla and dried pear.
Aftertaste:
Smoky notes appear and grow through the finish. It's just too easy to drink and hard to fault.
Product Information
Closure: Natural cork stopper

More about The Singleton of Glendullan 12 Year Old
Whisky - Speyside single malt Scotch whisky cocktail recipes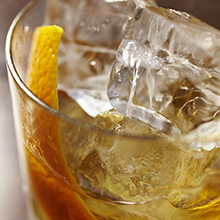 View 21 Whisky - Speyside single malt Scotch whisky recipes on Difford's Guide