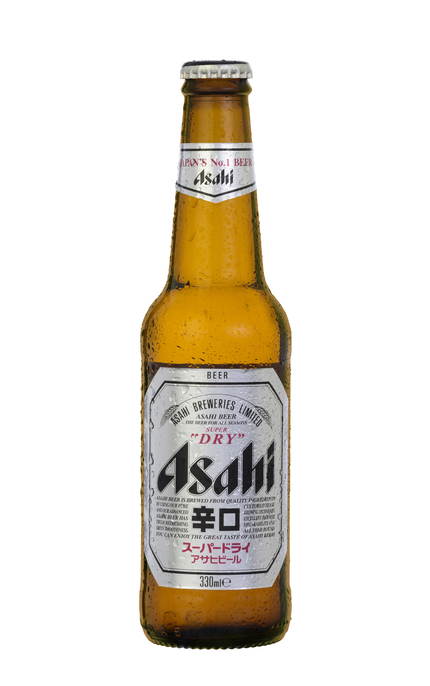 Product of:

Italy
Asahi is Japan's No.1 selling beer and for years the lager was also brewed under licence in other countries, including by Shepherd Neame in the UK. However, on 15th January 2018, Asahi Europe Ltd, changed gear "by re-launching Asahi Super Dry in Britain in its authentic form" brewed in Padova, Italy
According to Ashahi, "For the first time in Europe, full access to the exact brewing standards of that in Japan have been given to Asahi Europe Ltd and these innovations will bring the authentic taste of Asahi Super Dry to British consumers."

First produced in 1987, Asahi Super Dry is brewed with Asahi yeast strain No. 318, hops, barley and rice to produce a dry, deliberately very light style of lager with quick clean finish, known as Karakuchi.

Review and Tasting
Sampled on 14/01/2018
Appearance:
(sample bottle best before 06/Nov/18, Italian brewed)) Clear, pale golden with thin white head.
Aroma:
Toasted white bread, grilled sweetcorn and faint straw.
Taste:
Light-bodied, clean and cleansing. Dry on the palate but with white bread sweetness balanced by light toasty maltiness and mild grassy hop bitterness.
Aftertaste:
Short and subdued, dry and toast with light hop bitterness.
Overall:
As the name suggests this light-bodied lager (brewed with rice) is dry but with subtle sweet white bready notes dried by subtle toasty maltiness and mild grassy hop bitterness. Light, refreshing and unchallenging on a hot summer's day.