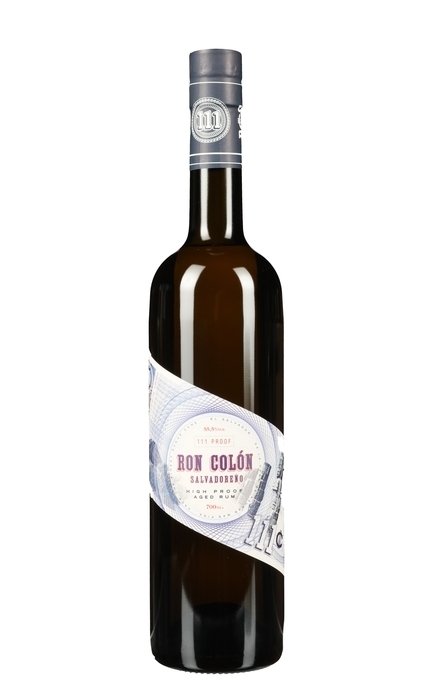 This high proof blended rum comprises a majority 6-year-old column distilled Salvadoran rum produced by Licorera Cihuatán distillery; with unaged pot-distilled Jamaican rum from Worthy Park, Hampden and Monymusk distilleries; and 3-year-old Jamaican pot-distilled rum from Worthy Park Estate.
Licorera Cihuatán is part of Ingenio la Cabaña, one of the largest and oldest sugar producers in El Salvador and established in 1920. The rum they produce is made from molasses produced from local sugar cane milled using a 100-year-old mill. The 36-hour fermentation process produces a wash which is distilled in a modern multicolumn still. After distillation, the rum is aged in white oak ex-bourbon barrels.

Most rums that comprise this blended rum come from El Salvador and the brand name is a reference to the country's former currency. In 1892, El Salvador's government, led by President Carlos Ezeta, decided that the Salvadoran Peso be renamed Colón, in homage to Christopher Columbus (Cristóbal Colón in Spanish) who discovered the Americas and the Colón remained the country's currency until 2001, when it was replaced by the US Dollar.

Ron Colón's was inspired by 22-day, 16-country, Latin American barhop by two bartenders, Thurman Wise and Pepijn Janssens. El Salvador in particular "sparked an obsession to create a product". Their enthusiasm attracted others so the duo grew to become a team of six, each bringing their own talents that eventually led to the launch of Ron Colón.

Review and Tasting
Sampled on 21/04/2010
Appearance:
Clear, pale golden.
Aroma:
Fresh slightly green banana, pineapple, plump raisin and prune with buttery croissant and light pink peppercorn spice.
Taste:
Peppery spirituous spice leads to tropical fruit, caramel, creamy milk chocolate, roast almond dried apricot.
Aftertaste:
Grassy sugar cane flavours emerge in the finish then turn buttery and lingers with spiced tropical fruit.
Overall:
Don't be put off by the high alc./vol. of Ron Colón, it means a little of this delicious rum goes a long way in a cocktail or add a splash of water to enjoy as a sipping rum.