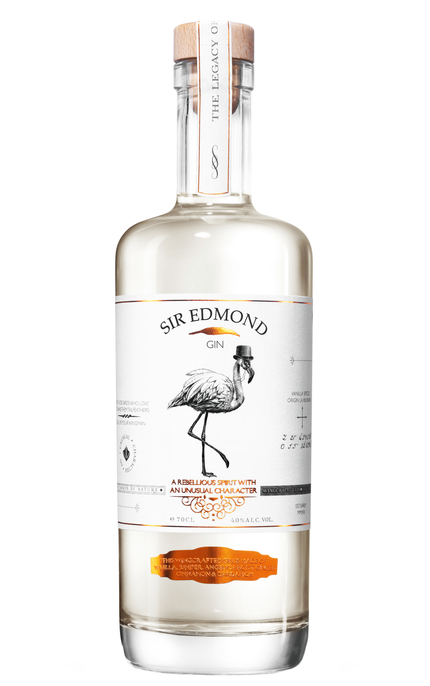 Product of:

Netherlands

Billed as being "the world's first vanilla infused gin", one of Sir Edmond Gin's six botanicals is Bourbon vanilla from the island of Réunion. The island is also home to flamingos, hence the migratory bird's prominence on the label.
The gin is made by distilling Macedonian juniper berries, angelica root, Nigerian ginger, Guatemalan cardamom, and Chinese cinnamon in the traditional way, then this distillate is infused with Bourbon vanilla "for a few weeks".

Sir Edmond Gin takes its name from Mr Edmond Albius, a native to Réunion who was born a slave but is responsible for enabling the island's most famous export – Bourbon vanilla. In 1841, when just 12 years old, Edmond discovered that vanilla orchids could be artificially pollinated by hand. A simple quick flick with a blade of grass revolutionised the cultivation of vanilla. Prior to his discovery, French colonists wanting to cultivate vanilla on Réunion faced the issue that native insects refused to pollinate the imported vines. Edmond accomplished what a French university professor of botany had failed to achieve in the 1830s.

Edmond's manual technique is still used to pollinate vanilla on the island to this day. Sadly, his discovery went unrewarded and after the French abolished slavery in 1848, Edmond left the plantation to become a kitchen servant. He died aged 51, a free man but poor in Sainte-Suzanne, the same town in which he was born.

For every bottle of Sir Edmond gin sold a contribution is made to the Kenyan-based African Wildlife Foundation which supports wildlife conservation and habitat protection.

Review and Tasting
Sampled on 18/08/2020
Appearance:
Clear but with a faint amber hue imparted by vanilla infusion.
Aroma:
Pungent vanilla, piney juniper and faint ginger as part of a whiff of woody spice.
Taste:
Initial mellow, almost creamy vanilla before piney juniper and medley of assertive spice.
Aftertaste:
Vanilla lingers on the tongue as spice hits the throat and warms the cockles.
Overall:
Vanilla is obvious but does not overwhelm the juniper. The mellowing effect of the vanilla is countered by cardamom, cinnamon and ginger spice.