Chivas Regal Extra 13 Oloroso Sherry Cask
Product of:

United Kingdom

Released in July 2020 and aged or 13 years in oloroso sherry seasoned casks, this blended Scotch whisky is one of four releases in the Chivas Extra 13 collection.
Thirteen not only refers to the minimum number of years this Scotch has spent maturing in oak casks but No. 13 Aberdeen's King Street which housed the Chivas Brothers' grocery shop which opened in 1801 and was the start of a whisky empire.
Review and Tasting
Sampled on 03/09/2020
Appearance:
Clear, golden amber.
Aroma:
Heather honey and pear dusted with cinnamon.
Taste:
Honey, rich pear, vanilla and caramel are balanced by faintly smoked malt, cinnamon, dry oak tannins and roasted nuts.
Aftertaste:
Toasty oak, pear and honey.
Overall:
Rich pear fruitiness and honey perfectly offset dry oak tannins and cinnamon spice in this very quaffable dram.
Difford's Guide Certification

Product Information
Barcode UPC: 5000299611104
Bottle Size: 700 ml
Closure: Screw / Stelvin cap

Wood maturation
Type of wood used for main maturation: Oloroso Sherry Seasoned

More about Chivas Regal Extra 13 Oloroso Sherry Cask
Whisky - Scotch whisky (blended) cocktail recipes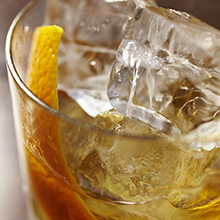 View 194 Whisky - Scotch whisky (blended) recipes on Difford's Guide