Garnish:
Garnish the cocktail with one sultana grape berry inside already washed & cut from the twig's side. If you have more than one berry serve a few as a sidecar.
How to make:
Before preparing make sure there is ice in your mixing glass and that the glass is chilled enough. Fill up the coupe glass with crushed ice. Pour the ice out of the mixing glass together with the condensate. Stab the blocked ice using an ice pick into the mixing glass. We need split ice because it is the one which won't have a water film on its surface. As a result, it suits better for cooling having the same volume of dilution. Check water leftovers in the mixing glass using a strainer. Now to ingredients!

First, prepare a lemon peel and squeeze it out into the mixing glass. Discard the used peel.

Add the following ingredients:
Hayman's Old Tom Gin - 75 ml
Lustau Manzanilla Sherry - 15 ml
Galliano L'autentico - 5 ml
Regan's Orange Bitters N6 - 6 drops

Now we stir checking the mixing glass temperature change with our fingers from time to time. Trust yourself in this process. Try your cocktail with a bar spoon and you'll understand whether the cocktail is ready or you need to stir a bit more.

Pour the ice out of the coupe glass and pour the cocktail in using a strainer. Garnish the cocktail with one sultana grape berry inside already washed & cut from the twig's side. If you have more than one berry serve a few as a sidecar.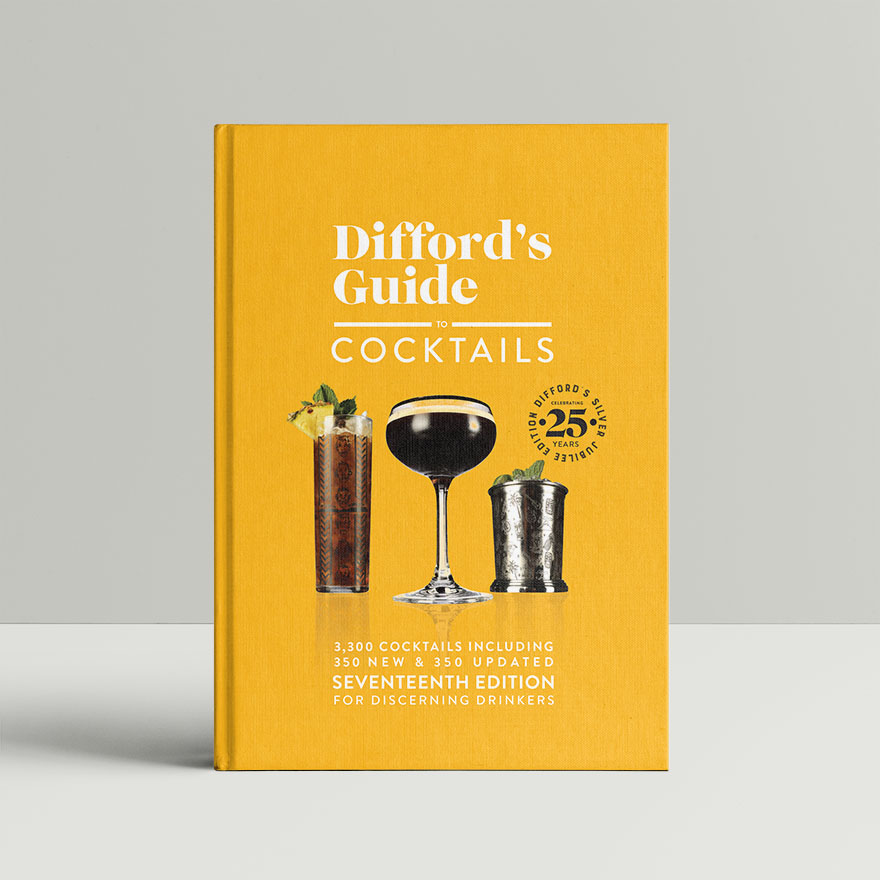 Difford's Guide to Cocktails Book 17th Edition
Perhaps the world's biggest cocktail book! Certainly, our biggest yet, 624 pages, 6cm (2.3inch) thick and weighing 2.25kg (5lb). Our Seventeenth Edition
Buy it here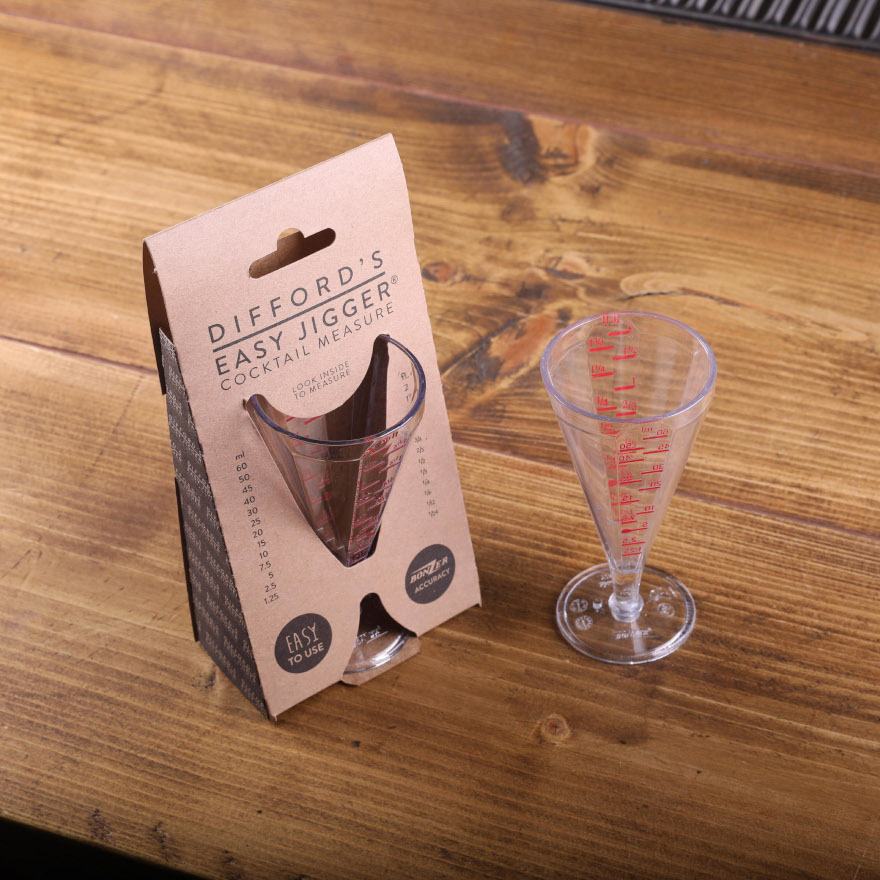 Easy Jigger
The Easy Jigger® is a measure designed for use when making cocktails, primarily in the home but also by professional bartenders. It has a unique design
Buy it here
Origin:
Looks Like Martini (Cocktail). A true story

Everything began in the middle of April this year. On my way to work, I looked into a Bohemian crystal store. I fell in love with coupe glasses and thought I would buy them for the Parovoz Speak Easy bar (Kyiv, Ukraine) where I work. However, I recalled swiftly that we had just purchased enough glassware, and it would be irrational to buy even more. So, if there was no need for new glasses at the bar, I decided to buy them myself. That's it. In fact, I just visualized how good some "light" Martini cocktails in the style of eponymic "A Yellow, A Mallow Martini" can be in these coupe glasses. I realized that it was just inappropriate to let them stay in the store and grabbed glasses with me.

A few days after that, I recalled that I had seen Hayman's Old Tom Gin competition at the Difford's Guide. I thought the registration was already closed, and actually, I didn't plan to participate. Instead, I wanted to look at the finalists and discover if some Ukrainians passed the selection. I was amazed that there were still ten days before the deadline! My new coupe! Gin cocktails contest! Is it possible and even legal to hold such contests without a Martini? I didn't think so. Luckily, I had everything to ensure the presence of a Martini there: beautiful glasses, perfect gin - Hayman's Old Tom, and one interesting idea.

If we deepen into the Martini cocktail's history, we can discover that the early versions of this cocktail were prepared with Old Tom Gin. There's a seminal recipe for a Martine cocktail with Old Tom Gin and sweet vermouth (in equal proportions), elaborately seasoned in an old-fashioned manner with a few dashes of Gomme syrup, dry curacao liqueur, and Bocker's Bitters in the second edition of Harry Johnson's book in 1888. Here in Parovoz Speak Easy bar (Kyiv), we have a special cocktail, "The Ancient Martini," inspired by this recipe in our special "Martini Time Machine" menu. So, I'm saying that Old Tom Gin is a great choice for the antique, historical Martinis (while London Dry Gin is standard for classic Martinis).

As we all know, Martini cocktails are just a few ingredients: gin, vermouth, and a myriad of nuances. And that is precisely what has made it so iconic. Of course, our gin is predefined (in such a perfect way!), so let's switch our focus to vermouth and allow our imagination to fly.

Vermouth and its absence – it is a profoundly discussed martini topic. Historically, there was a period in Martini cocktail history when the amount of vermouth in the Martini Cocktail decreased day by day (you know, all those things concerning nukes and so on. There was so much stress other where). So, Martini became drier, it explored possible depths of dryness. There were recipes in history when it was enough to just bow to the direction of France's or let the sunbeam break through the vermouth's bottle straight into the mixing glass. To prepare Winston Churchill's favorite Martini, it was enough to glance swiftly at the unopened vermouth bottle on the other side of the room. Sounds extremely inspiring, no doubt; however, I've decided to use a different technique.

Several years ago, my friend, cocktail enthusiast, and true Martini cocktail connoisseur Pavlo Yanchenko (his Science Of Drink.com blog was instrumental for Ukrainian bar culture in the 2010s) showed me one interesting vermouth replacement technique. Pavlo introduced a Nome cocktail to me. Nome was a peculiar thing from the past (Pavlo believed he adapted the recipe from the Embury book), where dry vermouth was replaced by a mix of dry sherry and strong herbal Chartreuse liqueur. That was a great starting point of inspiration to experiment with my recipe for the contest.

Vermouth is a fortified aromatized wine, and this is exactly what we need from this ingredient in Martini. I decided on Manzanilla Sherry as a fortified wine and Galliano L'Autentico Liqueur as companions for Old-Tom Gin in my Martini. I believe these two ingredients must get along with the Hayman's Old Tom Gin concept extremely well. In her "Sherry" book, Talia Baiocchi writes that "Manzanilla is Fino's brother from another mother" (Pavlo insisted on employing finos in his Nomes). Manzanilla Sherry emphasizes gin's freshness. The sherry's aroma reminds me of freshly cut grass with meadow flowers and a bitten green apple. It is still dry as sherry like Fino but more aromatic.

I came up with the idea to employ Galliano L'Autentico Liqueur as an aromatizer. Its soft and sweet palate with vanilla and aromatic herbs undoubtedly will play very well with Hayman's Old Tom Gin.

The next two steps in my preparation process are for "drying" the cocktail. I use a lemon peel directly on ice in the mixing glass before adding all other ingredients. We squeeze a lemon peel to extract essential oils from it. Then, we discard it. Another step for dryness is six (6) drops (drops, not dashes) of Regan's Orange Bitter N6.

The last nuance to finalize the cocktail is the garnish. Usually, a lemon twist or a green olive is used in the regular Martini. I already have a lemon peel in my Martini, even if it's used in an unusual way. So, we've done with lemon here. I also don't want to compliment selected ingredients with an olive. To avoid additional aromatic interference but preserve the iconic Martini look, I compliment this company of ingredients with sultana grape berry. It also accentuates the dryness and the sweetness and all the aromas in the cocktail. If you have more than one grape berry, you can serve them as a sidecar.

Summing up, I suggest looking at this Martini more thoroughly. We need dry gin in a classic Martini in order to mix it Dry. We have here a sophisticated Hayman's Old Tom Gin. So it's not quite Martini in terms of Dry Martini. We don't have vermouth in the recipe. So the question is if it is possible to mix Martini without dry gin and vermouth. And without an olive, such nonsense! But do you remember me telling you in the beginning that Martini is just two ingredients: gin, vermouth, and a myriad of nuances? So, I believe that nuances turn this cocktail into a true Martini.

So my idea is that it is Martini - Looks Like Martini.

P. S. Looks Like Martini cocktail was created on April 20th, 2023, at Parovoz Speak Easy Bar in Kyiv, Ukraine, especially for the Old Tom New Cocktail contest. I began offering the cocktail to the guests behind the bar the same week. One of our guests, Volodymyr, after finishing the third Looks Like Martini cocktail, said: "Tima, this is a cocktail for those who don't like Martini." I replied: "...it is a cocktail for those on their way to Martini!"

Thank you for your attention,
Tima Semeniuk
Alcohol content:
2.1 standard drinks
31.31% alc./vol. (62.62° proof)
29.8 grams of pure alcohol
Difford's Guide remains free-to-use thanks to the support of the brands in green above. Values stated for alcohol and calorie content, and number of drinks an ingredient makes should be considered approximate.